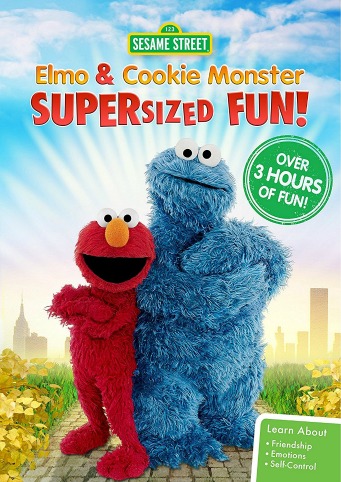 When I was a little girl, I grew up watching Sesame Street and it was one of my favorite TV shows. I can remember being in-love with Big Bird, Elmo, Cookie Monster, Oscar the Grouch, Bert & Ernie and the rest of the gang.
Now that I'm a mother to two children, I'm discovering Sesame Street all over again. My daughter enjoys Cookie Monster, while my son adores Elmo. It's one of the best television shows for children and you can find it on your local PBS stations.
Recently a brand new DVD hit the retail market on April 4th, 2017 titled Sesame Street: Elmo & Cookie Monster Supersized Fun. This one children's DVD features over 3 full hours of Sesame Street's most popular Muppets!
Elmo & Cookie Monster make the best and the cutest team on Sesame Street in this selection of skits, songs and stories. Dance and play along with Elmo, Cookie Monster and their friends in this brand new DVD release.
Elmo the Grouch – Elmo is feeling cranky & grumpy. Is he turning into a grouch?
Elmozilla – Abby works her magic to make Elmo tall…but how tall is too tall?
Me Am What Me Am – is Cookie Monster now a Veggie Monster?
Crumby Pictures – Captain Snack Sparrow (Cookie Monster) won't give up until he finds Davy Jones' cookie jar.
Plus More! You'll also find the following bonus features:
Lifting Snuffy – Zoe and her dancers must work together to make Snuffy fly.
Printable Storybooks – Cookie Monster's Busy Day and Elmo and His Friends.
Easter is just around the corner and I'm sure you'll have plenty of spring & summer children's birthday parties to attend. This brand new children's DVD would make the perfect Easter basket stuffer for a young child or birthday gift!
This post contains affiliate links. If you make a purchase, we may or may not receive a small commission which helps to support this site. Thank you!

Disclaimer: Jenelle received a complimentary product to feature in this blog post. No monetary compensation was received. The Classy Chics are not responsible for prize shipment. Please read all rules & guidelines before entering the giveaway.