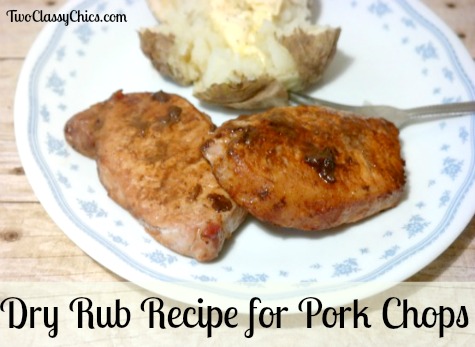 Two to three times a month we enjoy making pork chops. We will sometimes season them up and toss them onto the grill or we'll season them up and toss into the oven. When it comes to seasoning them & adding flavor, we will sometimes use a liquid marinade or a dry rub recipe.
A few weeks ago we made some pork chops and tossed them onto the grill and they were delicious! My husband mixed together a few ingredients to make a dry rub and the recipe he used is below.
Seasoned Dry Rub Recipe for Pork Chops
1 tbsp. ground paprika
1 tbsp. ground black pepper
1 tbsp. sea salt
1/2 tsp. granulated sugar
1/2 tsp. brown sugar
1/2 tsp. chili powder
1/2 tsp. garlic powder
1/2 tsp. onion powder
Olive Oil
Preheat oven to 350 degrees F. or preheat your outdoor grill.
In a medium sized mixing bowl or marinading dish, combine together the ground paprika, ground black pepper, coarse sea salt, granulated sugar, brown sugar, chili powder, garlic powder and onion powder until combined.
Lightly moisten the pork chops with a little bit of water. Place them into the bowl and use a spoon to coat both sides of each chop with the dry rub ingredients.  Leave the chops in the bowl. Cover and refrigerate for at least 4 hours.
Remove from the refrigerator and let them stand at room temperature for 10 minutes.
Lightly mist (spray) each pork chop (both sides) with olive oil and place in a baking dish (for the oven) or onto a hot and preheated grill. If using the oven, preheat it at 350 degrees. Bake or grill until done. We flip them over halfway through the cooking time.
Note: When we bake them in the oven, we bake them for about 45 minutes (total). When we toss them onto the grill, we will grill each side for 10-12 minutes, depending on their thickness. Just giving you some guidance on how long we cook, bake and grill them!
* This post contains affiliate links. If you make a purchase, we may or may not receive a small commission which helps to support this site. Thank you!