Many of us are making our summer vacation plans and are looking forward to the beautiful weather and more carefree days. I know that I can't wait to spend some time relaxing with my family at the beach. With those hot, sunny days come the damage that harmful UVA/UVB rays can cause. It is so important to protect and moisturize our skin, especially our faces—no one is in a hurry to welcome wrinkles to the party, that's for sure.
Today, I'd like to tell you about a fantastic product from AllGlamR that delivers a subtle, healthy-looking glow, along with chemical free, broad spectrum (Zinc Oxide) skin protection against UVA and UVB radiation and infrared defense. AllGlamR Tinted Sunscreen with SPF 30 is right up my alley as I was diagnosed with melanoma a few years ago and know the reality of finding out you have skin cancer. I didn't even think I was a big risk—I typically stay out of the sun and was never been much of a sun-worshipper, but I do like the warm days and spending time outdoors. With my recent health scare, I don't take a step out in the sun without a big, floppy hat (and must) and a great, reliable sunscreen.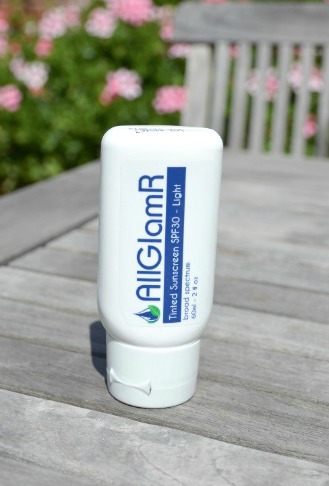 What I think is really unique about AllGlamR Tinted Sunscreen with SPF 30 is that it is packed with quenching rehydrating natural oils containing vitamins A,C,D,E, and F and age defeating antioxidants with buildable tinted coverage to help give your skin an even tone and hide little imperfections. It reminds me a very light foundation. The product comes in two shades—light and medium—I received the light version, which is recommended for fair skin with blue, red or pink undertones (definitely me). Medium is suggested for those with a darker complexion with yellow, gold or olive undertones.
You can easily apply and reapply this sunscreen throughout the day for natural-looking coverage and a beautifully smooth and even glow. The All GlamR Tinted Sunscreen has many benefits including:
• SPF 30 UVA/UVB protection
• Increased skin hydration
• Reduction of fine lines
• Improved complexion tone and texture
• Minimized pore size
• Camouflages dark and red spots
• Covers blemishes, freckles, acne, and scars
The AllGlamR Tinted Sunscreen is also hypoallergenic, fragrance and Paraben free and made in the USA. It is available in a 2 fluid ounce bottle on the AllGlamR web site.

Disclaimer: Kristine has personally reviewed the product listed above. She has not received any monetary compensation for her review but did receive a free product to try out so she could evaluate and use it for her review. Her thoughts & opinions in this review are unbiased & honest and your opinions may differ.