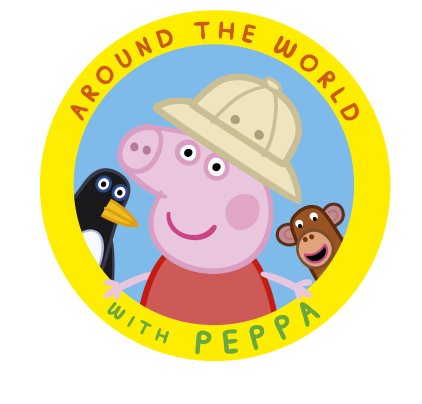 Do you have little ones who enjoy watching Peppa Pig on Nick Jr.? I have a 7 year old and 1 1/2 year old who both enjoy watching the fun adventures of Peppa Pig and the gang.
There is a brand new Peppa Pig children's DVD release (April 4th, 2017) called Peppa Pig: Around the World which includes the 15-minute special episode along with 9 other favorite Peppa Pig episodes! This would be a great DVD to pick up for Easter which is just around the corner.
Synopsis: Peppa, her brother George, Mummy Pig and Daddy Pig set off to the park to celebrate the beginning of the summer holidays. But when their car breaks down, Miss Rabbit lends them her plane for the day and they get swept off on an adventure all around the world! Enjoy an hour of nonstop Peppa fun with Around the World with peppa and a selection of nine more favorite Peppasodes, the laughs and snorts are guaranteed!
Around the World with Peppa – Have three times the Peppa fun with this triple-length special episode! Plus…
The Tree House
The Museum
Granddad's Dog's Garage
Mr. Potato Comes to Town
Chatterbox
Grandpa Pig's Train to the Rescue
The Olden Days
Garden Games
International Day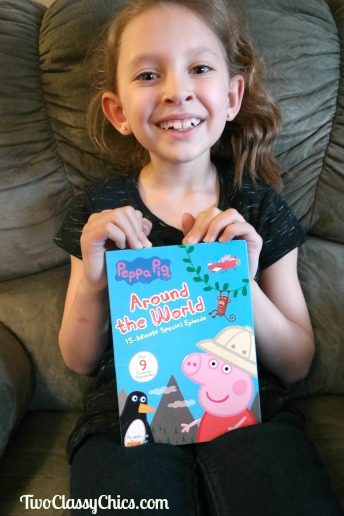 We just went through a rain day where my kids were stuck in the house and climbing the walls. This new Peppa Pig dvd arrived just in-time and saved the day. I popped in the DVD over the weekend and the kids settled down on the bean bag chairs and watched it together. It's one show that both of them enjoy which is really nice since my kids have a nice age-gap between them.
As a parent, I enjoy good quality entertainment programs like Peppa Pig that is geared toward young children, especially pre-school aged kids. It teaches them educational things, social skills and I feel that this particular program helps the younger ones prepare for school. The episodes are entertaining, fun and jam-packed full of humor & laughs.

Disclosure: Jenelle received a complimentary copy of this children's DVD to feature on Two Classy Chics blog. No monetary compensation was received. Jenelle's opinion and words are 100% her own.