Do you have children or grandchildren who are Peg + Cat fans? If so, the brand new movie DVD release is on May 23rd, 2017. Sandra Oh Guest Stars as the President of the United States. PBS KIDS Series PEG + CAT Helps Kids Build Math and Problem-Solving Skills.
PBS Distribution announced today it is releasing "PEG AND CAT SAVE THE WORLD" on DVD, the first movie from PBS KIDS' popular PEG + CAT series, produced by The Fred Rogers Company. In this fun-filled, two-part movie, the president of the United States (voiced by actress Sandra Oh) summons Peg and Cat to the White House to solve a problem of national importance! She needs Peg and Cat to identify a mysterious object floating in space. Using their problem-solving skills, the duo discovers that a giant opera-singing pig is on a collision course with Earth. Can Peg and Cat save the planet from disaster?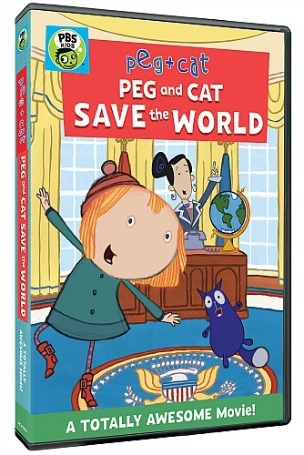 Each PEG + CAT adventure features a story in which Peg and Cat encounter an unexpected challenge that requires them to use their math and problem-solving skills to find a solution. While it teaches specific math lessons, the series also emphasizes the importance of resilience and perseverance.
In February, "PEG AND CAT SAVE THE WORLD" was awarded a prestigious Kidscreen Award for "Best One-Off, Special or TV Movie" in the preschool programming category. In addition, when the nominations for the 43rd Annual Daytime Emmy® Awards were announced, PET + CAT was nominated for five awards, including: "Outstanding Pre-School Children's Animated Program," "Outstanding Writing in a Preschool Animated Program," "Outstanding Directing in an Animated Program," "Outstanding Music Direction and Composition," and "Outstanding Original Song" for "Fairy Tale Wedding." PEG + CAT won for "Outstanding Writing in a Preschool Animated Program" and "Outstanding Music Direction and Composition."
Giveaway: One lucky winner is going to win the new Peg + Cat: Peg and Cat Save the World Children's DVD. Good Luck!
Giveaway Details: This giveaway is open to residents of the US ONLY age 18 and over. Please read our Terms of Service & Disclaimer Policy before entering. This giveaway will close on May 3rd, 2017 at 11:59 pm EST time. No purchase necessary to enter or win.

Disclaimer: This is a courtesy post. No product or monetary compensation was received. We're hosting the giveaway as a courtesy to the company and/or PR firm. Two Classy Chics is not responsible for prize shipping.