There's a lot of chatter these days about detoxing—whether it's doing a juice cleanse (no thanks) or maybe cutting out wine (no thanks again), everyone seems to be wanting to take a pure approach and rid the body of toxins. Many times, we forget how important it is to purify and cleanse our skin as well. I was recently introduced to a product that will revitalize and renew your complexion (sign me up)! Osmosis Skincare's Deep Clean Detox Cleanser is comprised of a unique combination of coconut surfactants and citrus essential oils to remove deep impurities. This gentle foaming wash will not only help to clear up acne-prone skin, but also lifts away makeup, while keeping the skin's protective lipids intact, never stripping, inflaming or over drying the skin.
** Complimentary Product Received for Review.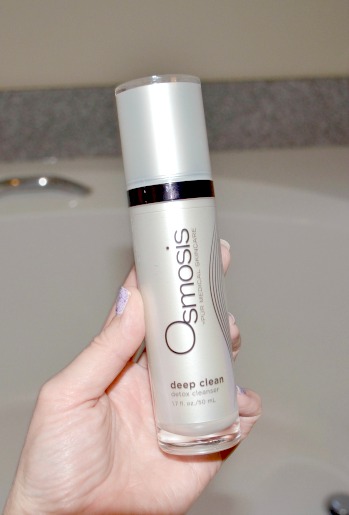 Osmosis is a company that has a unique philosophy, which is based on analyzing the skin and body to treat skin conditions at their source, restoring beauty and wellness. The Deep Clean Detox Cleanser is a vegan, gluten-free formula that controls oil production with a blend of lemon, orange and grapefruit oils. Lemongrass is used to kill germs, while lemon, orange peel, and grapefruit oils serve as antioxidants with purifying properties. The combination of these natural ingredients works well with the skin's own strengths to cleanse without harsh chemicals or damaging products. I've been using this product for a few weeks and my skin feels so refreshed, clean and smooth. We spent five days camping last week and while the fresh air was wonderful, I didn't keep up with my typical skincare routine. When we got back, my skin needed some extra love. Luckily for me, this cleanser contains coconut surfactant, which penetrates dirt particles and allows debris from the day (or from several days) to disintegrate. My skin felt silky and wonderful.
The Osmosis Skincare's Deep Clean Detox Cleanser also shrinks large pores to make them less visible and the addition of sandalwood oil, softens the texture of your skin. With each use, you'll notice your skin becoming more clean and renewed.
This product can be used in the morning and evening, but be sure to allow the lather to sit on your skin for 30 seconds before rinsing to get a deeper clean. It is gentle enough for all skin types, but works best on oily, acne-prone skin. You can purchase the Deep Clean Detox Cleanser directly from the Osmosis website.
* This post contains affiliate links. If you make a purchase, we may or may not receive a small commission which helps to support this site. Thank you!

Disclaimer: Kristine has personally reviewed the product listed above. She has not received any monetary compensation for her review but did receive a free product to try out so she could evaluate and use it for her review. Her thoughts & opinions in this review are unbiased & honest and your opinions may differ.