Building a daily skincare routine should be on all of our "to-do" lists. Taking care of our skin is just as important as eating right or getting in the groove of a daily exercise regime. I've recently been introduced to an organic skincare line called Skinerals by Skin Science, which develops its products through a completely natural process using a combination of minerals and earth elements to restore, pamper and protect your skin. Skin Science is dedicated to providing its customers with organic skin solutions to get back the skin you were born with. The brand includes 16 natural and organic skin care products.
I received two products in the line, which I'm excited to tell you about today—the Skinerals Luminous Citrine Facial Cleanser and Skinerals Californium Sunless Bronzer. Here is the scoop on each of these products: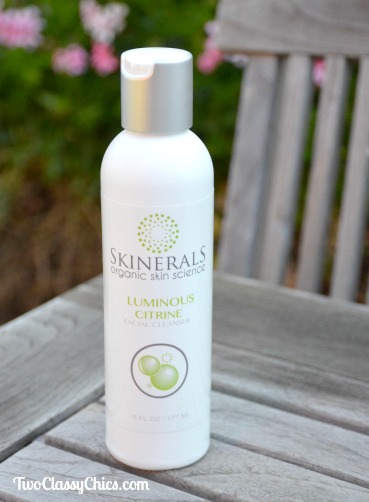 Skinerals Luminous Citrine Facial Cleanser –keeping your face properly cleansed is something we should all be doing daily. Finding the perfect facial cleanser can be difficult, especially if you aren't sure what to look for. This is a top-notch cleanser as it doesn't use any chemicals or dangerous toxins. It's designed for all skin types and helps keep your skin healthy and vibrant with its premium plant-based oils, essential oil blends, fruit and plant extracts. Some of the benefits you'll find with this product are:
• Exfoliation – activated charcoal neutralizes acidity and gently exfoliates the skin.
• Revitalization – a succulent blend of organic extracts and powerful bacteria-fighting agents revitalizes and removes impurities from the skin.
• Nourishing – a combination of vitamin C, B5 and E will help nourish your skin and keep it soft. Your skin will also drink in the organic botanicals of orange peel oil, coconut oil and aloe vera.
The Luminous Citrine Facial Cleanser feels great on your skin, has a really nice subtle citrus fragrance. For best results, massage it into your skin in a circular motion day and night.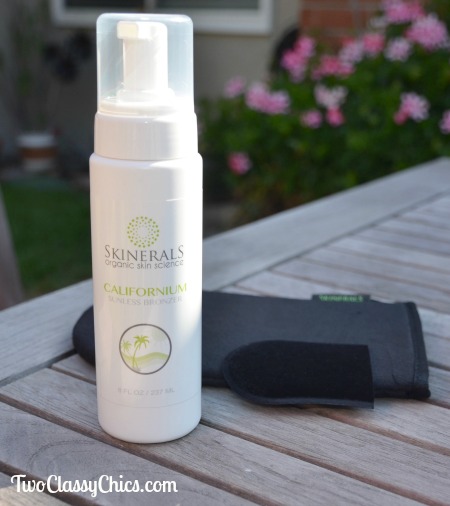 Skinerals Californium Sunless Bronzer – this is an ideal product for those of us who shy away from being in the sun, but still want to have a nice glow every now and then. This product will bronze pale, dull-looking skin giving you a gorgeous glow without the sun damage. This product is made with many organic and natural products, making it a much better alternative than many of the bronzers available today.
The Californium Sunless Bronzer is a whipped mousse that feels smooth on your skin and will leave it looking toned and healthy. I am not a big fan of bronzers because I am so pale—I feel like they look unnatural on me and give me an orange tint. I don't particularly want to look like a Cheeto. What's great about this bronzer is it's a light foam formula that dries quickly and doesn't streak, turn orange or smell weird. A must-have with this product is the padded microfiber applicator mitt. This will help make applying the product much easier. The Californium Sunless Bronzer is created using a blend of natural ingredients such as:
• Organic Aloe Barbadensis
• DHA
• Erythrulose
• Organic Indian Gooseberry
• Organic Acai Berry
• Glycerin (Plant Derived 99.9% Kosher
• Organic Fig Extract
• Organic Goji Berry Extract
• Vitamins A, C and E
• Green and White Tea
Be sure to exfoliate your skin before use.
As I mentioned above, there is a full line Skinerals' products available, all of which are made in the US, are entirely vegan as well as paraben-free, cruelty-free, and gluten-free. These products can be purchased directly on the Skinerals website.
* This post contains affiliate links. If you make a purchase, we may or may not receive a small commission which helps to support this site. Thank you!

Disclaimer: Kristine has personally reviewed the product listed above. She has not received any monetary compensation for her review but did receive a free product to try out so she could evaluate and use it for her review. Her thoughts & opinions in this review are unbiased & honest and your opinions may differ.