Twice a year I give my home a good overall cleaning. Every spring and fall season I work from room to room in our home getting things cleaned up, organized and downsized as I go along.
Like most families, we have a lot of extra batteries in our home. Let's face it, we all use a ton of batteries every year to power-up our remote controls, handheld games, smoke detectors, flashlights, camping lanterns, motorized & electronic toys, beauty devices and more! Seriously, tons of items in our homes use batteries!
During my heavy-duty cleaning, I realized that I needed to get all of our extra batteries cleaned up, organized and stored properly. To make sure I was doing things correctly, I hopped online and did some independent research and I talked with one of the pros over at Dorcy…my favorite manufacturer for batteries, flashlights and lanterns. Here's some important things that I learned.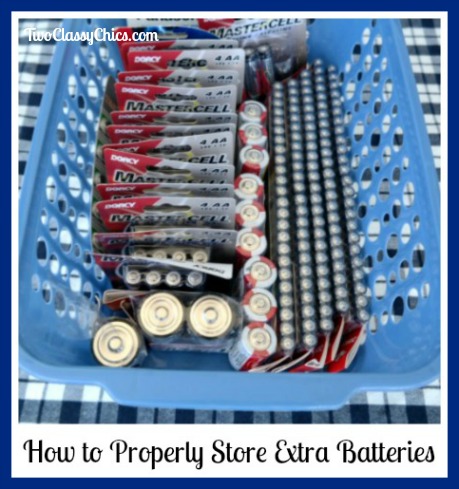 How to Properly Store Extra Batteries and Additional Tips
1. Always store them in a cool and dry place. Do not store them in direct sunlight. It is not recommended to store them in a refrigerator or freezer, that's an old-time myth!
2. It's best to keep all batteries in their original and unopened package until you need them. Batteries can become damaged when not in their original package.
3. Don't leave them in devices or products that you don't plan on using for a long time, like seasonal decorations. It's best to remove them before packing away your item for the next season.
4. If the battery is extremely cold, you need to let it warm up to room temperature before using it.
5. Place batteries for storage in an airtight plastic container to prevent humidity and moisture damage. Never store them in a metal container.
6. If you have batteries rolling around in your junk drawer or tool box, it's time to clean it out! Batteries shouldn't come into contain with metal coins, screws, paperclips and other metal items.
7. Inspect all batteries for damage and/or leakage before inserting them into any device. If you think it's damaged, properly dispose of them.
8. When it comes to disposing alkaline batteries, place them in your household trash, wrapped up in a bag. Do NOT throw them into a trash burning barrel where heat & flame can cause them to explode. If you live in a state the requires alkaline batteries to be recycled, follow those guidelines.
9. When it comes to button batteries, lithium and lithium-ion batteries, you need to drop those off at a battery recycling center. These types of batteries contain heavy metals and are considered to be a hazardous material.
When is the last time you properly cleaned up and organized all of your extra batteries? If it's been awhile, it's time to do it now!
* This post contains affiliate links. If you make a purchase, we may or may not receive a small commission which helps to support this site. Thank you!