I've been busy the past two weeks working on various spring cleaning projects. Just last week I spent HOURS in my kitchen cleaning and reorganizing things. I go on a BIG cleaning spree three times a year (spring, mid-summer and fall) and I'm always amazed at how quickly things can get dirty.
Today I wanted to share some tips with you on how to clean the range hood. I do a LOT of cooking and baking here at my home and that range hood always gets dirty & greasy.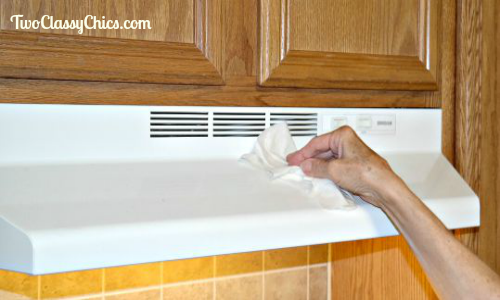 Twice a week I like to wipe down my range hood quickly with one of those handy & convenient cleaning wipes. It helps to keep things from building up. However, three times a year…I really give it a good overall cleaning.
When it comes to giving it a good cleaning, I like to fill up a basin with hot, soapy water and wipe down the inside and outside of the range hood.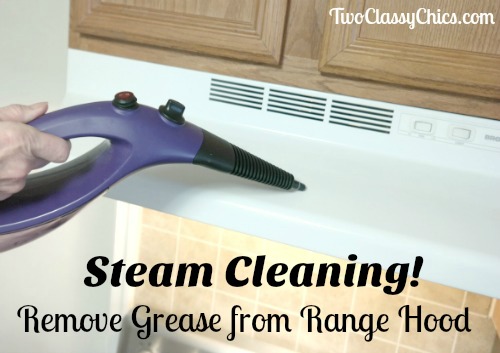 I then get out my handy steam cleaner and use it to blast off any leftover dirt, grease and/or debris. In addition, I lay a clean and dry old bath towel on top of my stove to catch any water or grease that runs off the range hood while I'm cleaning it. Make sure you're stove-top is completely cool before doing this! You can learn more about the Visio Steam Cleaner that I've previously reviewed if you want to learn more.
Once it's clean, I take a soft microfiber cleaning cloth to towel it dry. Don't have one? You can use a clean cotton kitchen towel to dry it too. By towel-drying it, it keeps any streaking at-bay. Let's face it, none of us like streaks!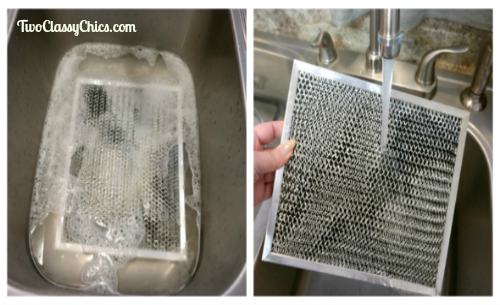 To clean the range hood filter, I remove it from the hood and place it in a sink of hot soapy water (I use liquid dish soap – Dawn – which is great at removing the grease). I let it soak in the soapy water for about 15 minutes. I then rinse it under clean tap water. If there is any debris or grease left around the outer edges, I'll use an old toothbrush with a little bit of liquid soap on it to scrub the grease/debris off. Rinse again. Lay it on a clean towel to air dry.  You always want to make sure your filter is clean and dry before putting it back up!
It's important that you wipe down the hood on a weekly basis with a cleaning wipe or a wet cleaning cloth to help prevent gunk from building up. Then…two to three times a year, you want to give it a good overall cleaning to keep it looking nice and those filters functioning properly.
* This post contains affiliate links. If you make a purchase, we may or may not receive a small commission which helps to support this site. Thank you!