Part of my weekly house cleaning tasks includes cleaning all four of the flat screen televisions in our home. One mistake that I often see people make is that they'll spray all-purpose cleaners or glass cleaners onto their TV screens and then wipe them clean. However, you never want to use those types of products which can damage your television screens, the electronics and leave residue streaking. YUCK!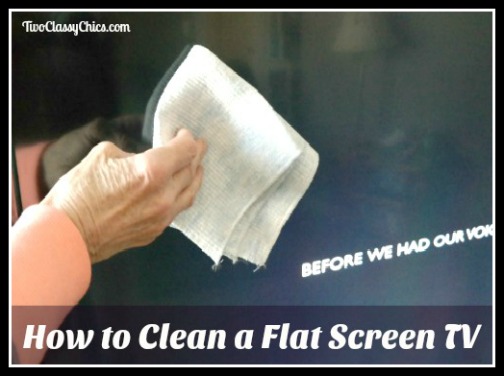 How to Clean a Flat Screen TV
When it comes to cleaning your Flat Screen TV's all you need are the following supplies:
2 Microfiber Cleaning Cloths
2 Tbsp. White Vinegar
Water
Spray Bottle
Combine 2 tbsp. of white vinegar with water in a spray bottle. The water should be cool to the touch…not hot or straight cold water. Shake up the bottle so that the vinegar is distributed from top to bottom.
Lightly mist one of your microfiber cleaning cloths with the solution and then wipe down the screen on your TV. Never spray the solution directly onto the surface as it can "seep" into the screen and run down into crevices which can damage the electronic components.
I find it best to wipe in straight up and down or across lines, not in a circular motion. Continue this pattern until the entire screen has been cleaned. Use this same cloth to wipe down the frame, without misting it again.
Use a clean and dry microfiber cloth to dry and to buff off any streaks. Don't use old rags, towels and other type's of cloths which can scratch and leave lint behind. I highly recommend that you ONLY use microfiber cleaning cloths for the job.
Additional Tips: After you're done using your microfiber cloths, you can toss them into the washer and dryer for cleaning. When laundering them, wash them with "like" items and never use fabric softener or dryer sheets during the laundering process. I personally machine-wash and air dry mine.
* This post contains affiliate links. If you make a purchase, we may or may not receive a small commission which helps to support this site. Thank you!