Spring is finally here many of us will be entertaining family and guests during the spring holidays, Mother's Day and at other spring parties & events. Matter of fact, I think they would make the perfect after dinner dessert or serve them at an intimate Mother's Day celebration.
Every year when spring arrives, I look for recipes that are lighter and utilize fresh fruits that are in-season. During this time of year I can easily find fresh raspberries, blackberries, blueberries, cherries and other fruits at my local grocery store and/or farmer's market.
Today's guest post recipe is courtesy of Viki's Granola. We've feature many of their recipes here on the blog along with foodie reviews of their yummy granola products. Even though their recipe calls for raspberries, you certainly could use your favorite fresh fruit. I think making a mixed berry version of this (strawberries, blueberries and raspberries mixed together) would taste delicious too!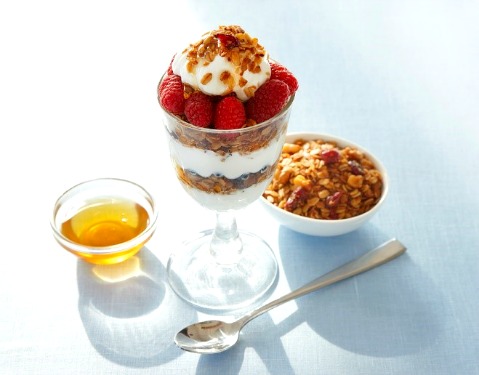 Granola Berry Parfait Recipe
6 ounces Yogurt (yogurt of choice)
1/4 cup fresh raspberries
1/3 cup Viki's Granola Original
Place 2 ounces of yogurt into a tall glass or mason jar. Pour a 1/3 of Viki's Original Granola evenly on top of the yogurt. Place 2 ounces of yogurt on top of the granola. Next, add the fresh raspberries or your choice of fruit. Add the remaining 2 ounces yogurt and granola on top.
Basically, your building a layered parfait, so feel free to mix-up the type of fresh fruits, yogurt and granola layers to your own liking. Serve immediately.
* This post contains affiliate links. If you make a purchase, we may or may not receive a small commission which helps to support this site. Thank you!