Originated in the Islands of Polynesia, Keli's Sauces was a recipe passed down from generation to generation. Before settling down to their regular jobs, Jim and Terry Morrisey travelled to the Marshall Islands. With no radio, television, or phone service, they made close friends with the people on the island, particularly to one Hawaiian family whose daughter was in Terry's Kindergarten class. During their time in the Islands, they shared a lot of meals and fell in love with the island inspired flavors and sauces.
In 1989 Penny, one of the Hawaiian family's children from the island of Molokai, took an adventure to meet Jim and Terry on the mainland working at their small deli on the Oregon Coast. Together, the dynamic duo created a recipe for the delicious sweet ginger Teriyaki that the islands are famous for. Encouraging them to market these savory sauces, Penny helped them design the very first label.
All of Keli's Sauces are gluten-free, vegan, contain no MSG, no preservatives, are low in sodium, low in fat and contain amazing flavor. Creating Aloha one bite at a time, Keli's Sauces bring a love for the Hawaiian Islands, culture and it's warm, friendly people straight to your plate!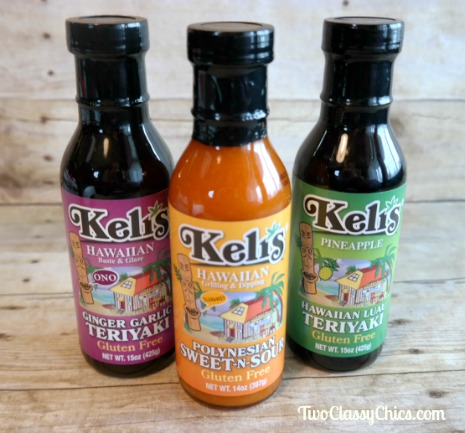 For this foodie review and feature we received 3 bottles of Keli's sauces to try out for all of you. Here's what we received:
Keli's Hawaiian Baste & Glaze Ginger Garlic Teriyaki Sauce
– Use when barbecuing or baking steak, chicken or ribs. Lightly brush on the glaze during the last 5 minutes of cooking.
Keli's Hawaiian Grilling & Dipping Polynesian Sweet-n-Sour Sauce
– A great dipping sauce for fried shrimp, egg rolls, bbq pork, chicken strips and chicken nuggets.
Keli's Pineapple Hawaiian Luau Teriyaki Sauce
– Use when barbecuing or baking steak, chicken or ribs. Lightly brush the sauce onto your preferred meat while turning often on the grill.
We decided to use the Keli's Pineapple Hawaiian Luau Teriyaki Sauce on some check thighs that we made last week. I decided to pour half of the bottle into a marinating container, put our chicken thighs into it and refrigerated for 4 hours. During the grilling process, I brushed the rest of the sauce onto the chicken thighs throughout the cooking process.
We served our chicken thighs along with some of our favorite veggies for dinner that night and the family raved & raved about the chicken. The sauce had a wonderful fruity flavor but yet…had enough zip to it to satisfy your taste buds.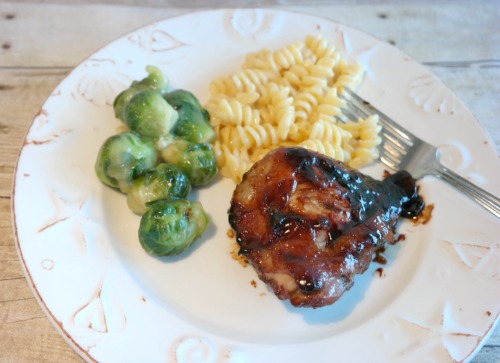 My grandchildren LOVE chicken nuggets and chicken strips, so one day for lunch they used the Keli's Polynesian Sweet-n-Sour Sauce as a dipping sauce for their chicken. My 8 year old granddaughter can be picky about her sweet-n-sour sauce and this one passed her test with flying colors. I'm a strange one and I love to dip my thick-cut steak fries into a good sweet-n-sour sauce and this one was absolutely fantastic for that!
We're expecting some dinner guests on Good Friday for a little backyard barbecue and will be trying the Keli's Ginger Garlic Teriyaki Sauce on some chicken quarters that we'll be grilling up for our little party. I can't wait to try that sauce next!
* This post contains affiliate links. If you make a purchase, we may or may not receive a small commission which helps to support this site. Thank you!
You can visit Keli's Sauce Company online website to learn more about this fantastic products and you can purchase them online. Looking for recipe ideas? They have those on their website too!

Disclaimer: Shelly received complimentary product to feature in this blog post. Shelly did not receive any monetary compensation. Shelly's thoughts, opinions and words are 100% her own unbiased opinion. Your thoughts may differ.