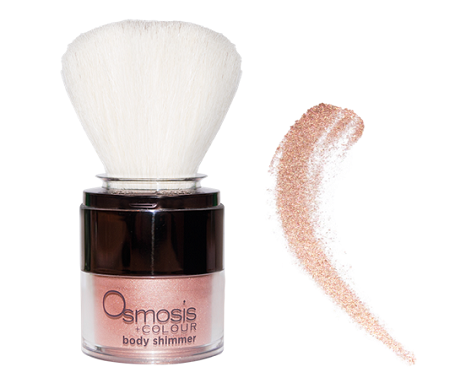 Last year I was introduced to a line of cosmetics by Osmosis and I absolutely LOVE all of the products that I've tried. If you opened my beauty bag right now, you would find several of them inside. Well, the product that I'm introducing you to today…has quickly become a favorite!
Let me introduce you to the new Osmosis Colour Body Shimmer Powder in Opal. This very fine powder adds a soft glow of iridescent shine to the face, body and hair with a Moringa Oil infused powder. Moringa Oil is a powerful antioxidant that is really good for your skin.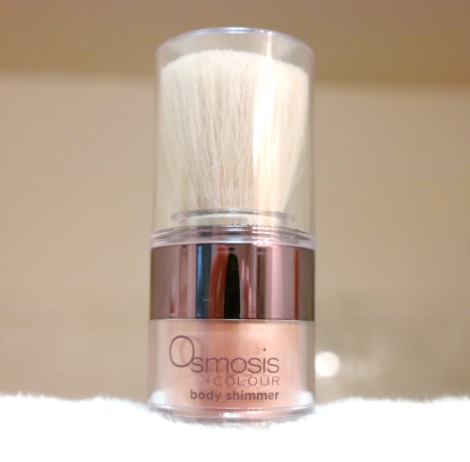 Applied in layers, the powder will add a beautiful metallic finish on the skin. Sweep it lightly on top of a blush application to add radiance to the cheeks. Brushed lightly on the face after a foundation application, the Osmosis Colour Body Shimmer Powder will give skin a beautiful glow. Use it to soften skin's appearance with a light application or to emphasize features with a heavier stroke. It has a lot of different uses and you can dust it lightly into the hair to add a beautiful shimmer, especially to highlights and looks beautiful on dark or red hues too.
My mom and I have both been playing around with it and we each like using it in a different way. I like brushing it across my face after I've applied my foundation and I like applying it across my upper chest when I'm wearing a lower-cut top. My mom likes dusting it in her hair since she has a considerable amount of gray hair, she likes the shimmer it gives to her hair and it definitely tones down the brassiness. She also likes applying it over-top of her blush.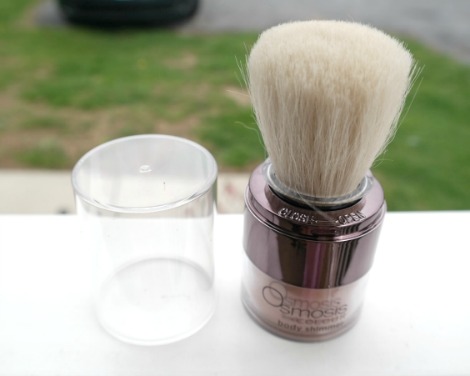 One of the best things about it is that it's a fine powder and in my opinion, can basically be used all over your body. I dusted it on my arms a few days ago and enjoyed the shimmering skin that was peeking out from underneath my shirt. The brush that comes with it is a great quality brush and does a fantastic job at dispensing the product directly onto your skin. It's a real WINNER in my beauty bag!
You can learn more about the Osmosis Skincare line of beauty products by visiting the company's website online.
* This post contains affiliate links. If you make a purchase, we may or may not receive a small commission which helps to support this site. Thank you!

Disclaimer: Shelly received complimentary products to feature in this blog post. Shelly did not receive any monetary compensation. Shelly's thoughts, opinions and words are 100% her own unbiased opinion. Your thoughts may differ.