One of my daily staples in my beauty routine is applying eye cream. I started using it regularly in my late 30s, which is somewhat late in the game. Experts say you should start as early as mid-20s. It's always a good idea to use preventative measures even if you don't see puffiness or wrinkles quite yet—believe me, you will. Concealers can only do so much, my friends.
Now that I can see the benefit of using a high-quality eye cream, I can't live without it. I was recently introduced to a new product–Frownies Immune Perfect Eye Wrinkle Cream–which is an all-natural cream that is loaded with ingredients such as caffeine, pomegranate and green tea. This helpful anti-aging treatment can not only eliminate the appearance of dark circles, fine lines, and eye bags, but when used over time, can help you look younger.
I have only had the product a little over a week, so while I'm not experiencing any long-term effects just yet, I can totally feel and the product working its magic, especially on the dark circles and bags (ugh) I can sometimes get, as well as the fine lines. The product feels terrific on my skin and you only need a tiny bit to dab onto your delicate eye area.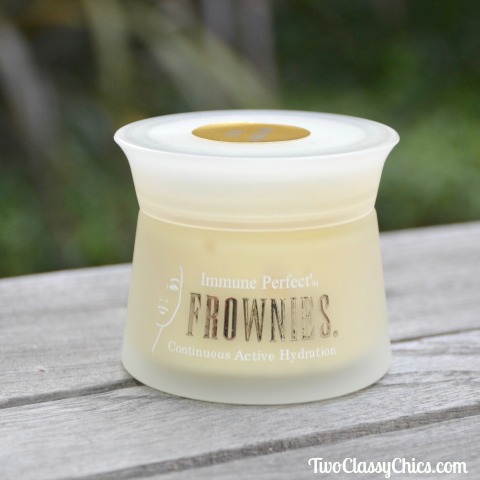 Frownies Immune Perfect Eye Wrinkle Cream contains several organic ingredients to keep your eyes and the skin around them looking younger, brighter and smoother. Some of those ingredients include:
• Green Tea: – Exceptionally rich in Proanthocyanidins, green tea plays a key role in boosting hydration and protecting the eyes from environmental damage while diminishing the appearance of dark, unsightly circles under the eyes.
• Pomegranate – Considered a superfruit, this natural ingredient provides immediate tightening and lifting benefits that help reduce the appearance of sagging and wrinkles.
• Aspen Bark Extract – High in natural salicylates, this 100% natural, preservative alternative has the added benefit of pore refinement and acne control.
• Aloe Vera – With over 75 different nutrients that help provide wound healing and anti-inflammatory properties, this ideal ingredient reduces inflammation while acting as a protective layer on the skin.
• Rose Hip Seed Oil – High in Vitamins A (retinol), Vitamin E, omega-3 and omega-6.
While everyone ages differently, we are all going to show the effects of Father Time at one time or another, but with the help of modern skincare from Frownies, we can give ourselves a little extra help at slowing down the process.
You can use this product under the eye area, in the corners of the eye and eye lid to provide protection, hydration and lift. Apply this product twice a day for best results.

Disclaimer: Kristine has personally reviewed the product listed above. She has not received any monetary compensation for her review but did receive a free product to try out so she could evaluate and use it for her review. Her thoughts & opinions in this review are unbiased & honest and your opinions may differ.