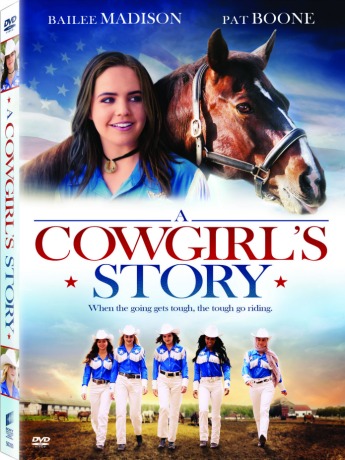 My granddaughter will be turning 8 years old next month (gasp) and is starting to outgrow the kiddie movies. For the past several weeks, she's been more interested in watching non-animated flicks when it comes to our family movie nights.
Last weekend we sat down to watch "A Cowgirl's Story" which will be available on DVD and digital download on April 18th, 2017. This movie stars Bailee Madison and Pat Boone and is rated PG with an approximate run time of 98 minutes.
Movie Synopsis: Seventeen year-old Dusty Rhodes (Bailee Madison) goes to live with her grandfather (Pat Boone) because both of her Army parents are fighting in the Afghanistan war. Dusty attends a new high school where she makes friends with a group that includes Savanah (Chloe Lukasiak), a girl whose father also served in the Army. Dusty convinces her new friends into forming an equestrian drill team that allows them to perform at rodeos and in parades.
Dusty's world is turned upside down by the war when her mother's helicopter is shot down in action and she goes missing. To cope with her fear and helplessness, Dusty enlists the help of her grandfather and friends to put on a special riding performance for her parents and all of the soldiers fighting overseas. The entire town turns out in support of the event, and it becomes an unforgettable experience for everyone.
Our Thoughts: We had 3 adults, one 8 year old girl and one 12 year old girl over for our family movie night. A Cowgirl's Story is a great movie for older girls, teenagers and young women who are looking for a heart-touching story to watch. My 8 year old granddaughter really enjoyed it since she loves horses and my 12 year old god-daughter loved it for the story line since she could related to it. (Her father is in the service and stationed overseas).
The acting in this movie is well-done, considering the age of the actors & actresses. They all seemed to mesh together well and the story line had enough "guts" to it to keep you entertained from beginning to end. As an adult viewer, I really liked seeing how the people who live in the town help to support Dusty in her endeavor, which was really nice to see. As always, I won't tell you how the movie ends, as I don't believe in putting out spoilers.
On our entertainment rating scale, we give this one 7 1/2 popcorn buckets out of 10 popcorn buckets. A really nice movie for those of you who have teenagers & young adults in your family and you want to host a family movie night with them.
* This post contains affiliate links. If you make a purchase, we may or may not receive a small commission which helps to support this site. Thank you!

Disclaimer: Shelly received complimentary product to feature in this blog post. Shelly did not receive any monetary compensation. Shelly's thoughts, opinions and words are 100% her own unbiased opinion. Your thoughts may differ.