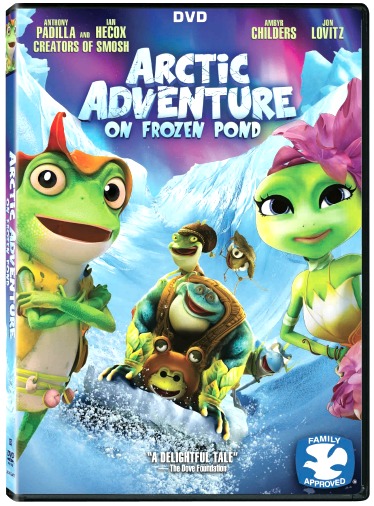 Two to three times a month my family enjoys getting together and having a family movie night (or afternoon). When we host our movie get-togethers we like to serve up some pizza, finger foods, beverages and of course, popcorn! It's a great way for us to all bond together and the kids really enjoy themselves.
Last weekend we got together for our family movie night to watch the new movie DVD release called: Arctic Adventure on Frozen Pond. It's available on DVD, On-Demand and on Download starting on April 18th, 2017.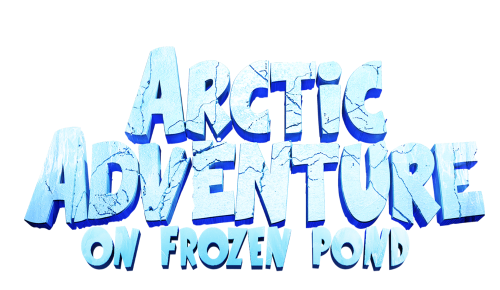 PROGRAM DESCRIPTION: SMOSH's Anthony Padilla and Ian Hecox, the comedy duo from the highly popular YouTube channel with over 6.1 billion video views to date, star in the animated motion picture Arctic Adventure: On Frozen Pond. Join the frog warriors (Padilla and Hecox) and the frog princess (Ambyr Childers) as they embark on a mission to save legendary warrior Crystal Frog in a family-friendly story full of mystery and fun. The film has been dubbed "a delightful tale" by the Dove Foundation, and has been awarded the Dove Family Seal of Approval. The Arctic Adventure: On Frozen Pond DVD will include an exclusive featurette titled "Giving the Characters a Voice: At the Recording Studio with Anthony Padilla and Ian Hecox (creators of SMOSH), Ambyr Childers, and Jon Lovitz" when it hits the shelves.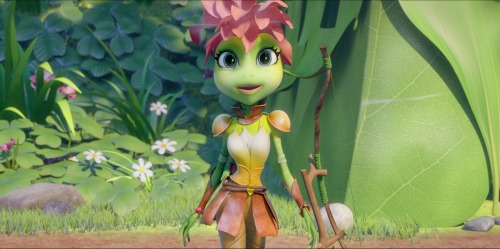 OFFICIAL SYNOPSIS: Anthony Padilla and Ian Hecox (YouTube's SMOSH) join Jon Lovitz (Hotel Transylvania) in this hilarious tale of brave frogs on a bold quest. For centuries, the Crystal Frog has protected the Frog Kingdom with its magic. But when sneaky One-Eye (Hecox) plots to steal the artifact and become King, it's up to Freddy (Padilla) and the Frog Princess to make the arduous trek to the Holy Land. Through forest, desert, river rapids, and icy caverns, the bravery of the frozen warriors keeps this colorful saga hopping.
Our Thoughts: Where do I even start on this one?!?!? Seriously, this animated movie is super-cute and my family LOVED it! The frog characters are super-cute and the story line is extremely entertaining from beginning to end. This animated tale is full of comedy and adventure, and in my opinion, it's a LOT different than other animated films that are out in the retail marketplace. I'm really getting tired of the same old, same old animated films. This one is different and it's really refreshing to see.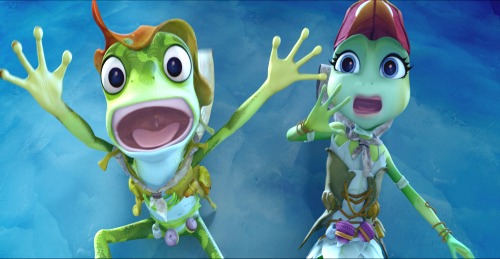 At our family movie viewing party, we had 4 adults ranging in age from 32 to 69, along with 3 children ranging in age from 20 months to age 9. I like to give ages in my movie reviews because it helps to gauge interest. I can HONESTLY tell you that everyone and I mean EVERYONE loved this movie! Matter of fact, the kids watched it again the very next day and since we received the DVD, I'm guessing that they've watched it another 5-6 times! Yup, it's fabulous! On our entertainment rating scale, we're giving this animated movie 9 stars out of 10 stars!
* This post contains affiliate links. If you make a purchase, we may or may not receive a small commission which helps to support this site. Thank you!
Giveaway: One lucky winner is going to win Arctic Adventures on Frozen Pond DVD, so that you can host your own family movie night! Good Luck!
Giveaway Details: This giveaway is open to residents of the US ONLY age 18 and over. Please read our Terms of Service & Disclaimer Policy before entering. This giveaway will close on May 9th,2017 at 11:59 pm EST time. No purchase necessary to enter or win.

Disclaimer: Shelly received a complimentary product as featured in this blog post. No monetary compensation was received. Shelly's thoughts and words are 100% her own unbiased opinion on the company & products being featured today. The Two Classy Chics are not responsible for prize shipment or fulfillment. This post may contain affiliate links. If you purchase an item through an affiliate link, we may receive a small commission which helps to support this site.