Chef and restaurateur Fabio Viviani gained national recognition on Bravo's Top Chef, where he earned the title of Fan Favorite. Through his seventeen restaurants, two wineries, best-selling cookbooks, Taste of Home cooking school, and Know How magazine, Fabio is quickly becooming a household name.
In his third beautiful, full-color cookbook, Fabio's 30-Minute Italian: Over 100 Fabulous, Quick and Easy Recipes, Fabio has crafted a wealth of recipes that can be prepared on the busiest nights by cooks at every level. They deliver all the flavor and authenticity of Italian cuisine and fit into hectic, modern lifestyles.
* Complimentary Book Received for Review.
Title: Fabio's 30-Minute Italian
ISBN: 9781250109958
Author: Fabio Viviani
Publisher: St. Martin's Press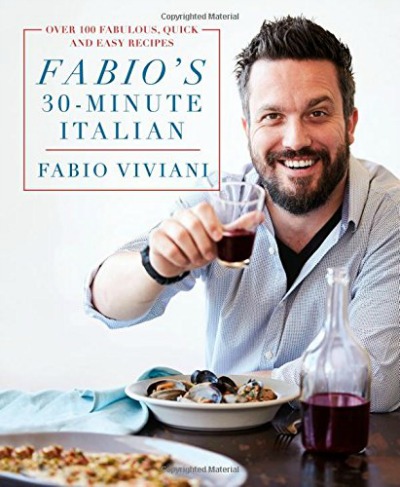 From Starters and Soup to Pasta and Dessert, there are recipes for all appetites and occasions. Fabio firmly believes that busy people don't have to give up good food. His recipes are easy enough to boost the confidence of reluctant cooks.
Fabio's 30-Minute Italian includes recipes for making your own pasta (including a gluten-free recipe) and a section on basics with recipes for herbed butters, focaccia, and vinaigrettes. Even with something as seemingly time-consuming as fresh pasta, Fabio has found a way to make it easy to prepare, with 3 minutes, a food processor, and the right ingredients, homemade pasta can become a dinner-time staple. The author also includes instructions for drying and freezing fresh pasta, making it easy to throw meals together during the week.
Some of the recipes you'll find in the book:
Creamy Montasio & Prosciutto Frittata with Chives & Parsley
Garlic & Honey Marinated Avocado, Mango & Roasted Chicken Salad
Braised Pork, Sweet Date & Kale Stew
Fresh Pasta with 20-Minute Sausage & Beef Bolognese Sauce
Polenta Crusted Catfish and Braised White Bean Salad
Herbed Lemon-Roasted Lamb with Cucumber & Dill Yogurt
Spiced Chocolate Pudding with Toasted Rice Crisps
+ Many More Recipes!!!
My husband's mother immigrated into the United States when she was 9 years old and was fluent in speaking the Italian language. My husband grew up eating authentic Italian food, so as his wife…I had to learn to make a few Italian dishes along the way.
Thanks to this new cookbook, I can now try out some new recipes that go beyond the basics of lasagna, manicotti and baked ziti. I'm really excited to have this new one in my cookbook collection and looking forward to trying out many of the recipes within the book. All of the recipes look pretty easy-to-make and all of the foodie photography is mouth-watering and awe-inspiring!
* This post contains affiliate links. If you make a purchase, we may or may not receive a small commission which helps to support this site. Thank you!

Disclaimer: Shelly received complimentary products to feature in this blog post. Shelly did not receive any monetary compensation. Shelly's thoughts, opinions and words are 100% her own unbiased opinion. Your thoughts may differ.