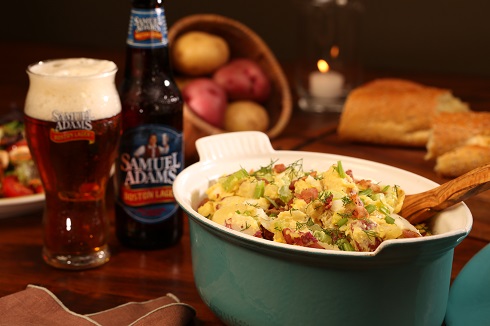 The weather is starting to get nice again and many of us are planning out our family picnics, get-togethers and backyard barbecues for late spring & the early summer seasons. Every time we host a party or get-together, you can always count on a delicious tasting potato salad to be on the menu.
Today's guest post recipe is perfect for all of your late spring & summer parties and family get-togethers. It's a little different than your traditional potato salad, but I think it's one that you will enjoy. It will make approximately 6-7 servings.
Boston Lager Potato Salad Recipe
36 ounces Samuel Adams Boston Lager
1 1/2 pounds Yukon Gold potatoes
1/4 cup diced red bell pepper
1/4 cup diced celery
2 tablespoons chopped scallion, white and light green parts
2 tablespoons diced red onion
2 tablespoons Dijon mustard
1 teaspoon drained capers
Directions: In a large pot, bring the lager to a boil over high heat. Immediately reduce the heat to medium so the beer simmers. Add the whole potatoes, let the beer return to a simmer, and cook for 10-15 minutes or until fork tender. Drain and set aside to cool for about 10 minutes or until cool enough to handle, but still hot.
Peel the cooked potatoes and cut into 1-inch-thick cubes. Transfer the potatoes to a mixing bowl. Add the peppers, celery, scallions, onions, mustard and capers and toss to mix. Let the potato salad rest for about 15 minutes for the flavors to develop and then serve while still warm.
Note: This is a guest post recipe. We are not responsible for any recipe errors.
* This post contains affiliate links. If you make a purchase, we may or may not receive a small commission which helps to support this site. Thank you!