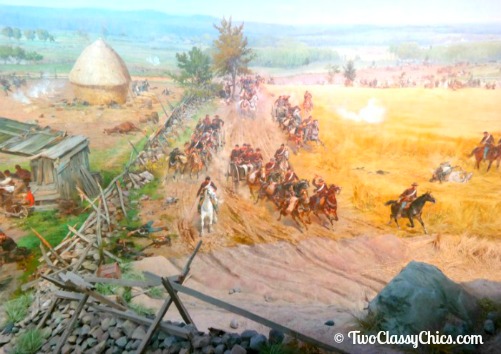 Back in the late 1800's and early 1900's Cycloramas were a popular form of artistic entertainment. Artists would spend hundreds upon hundreds of hours painting super-large pieces of artworks called Cycloramas. These pieces of artworks can give viewers a 360 degree view of whatever scene that the artist is trying to depict.
A few months ago we took a trip down to Gettysburg in Pennsylvania and visited the Gettysburg National Military Park Museum & Visitor Center where the Battle of Gettysburg Cyclorama is housed. If you've never visited Gettysburg, you're really missing out because there are a ton of things to see & do, many of which I already covered right here on the blog.
This beautiful oil on canvas piece of artwork was painted by the artist Paul Dominique Philippoteaux and was first shown in 1884 in Boston. It's an actual depiction of the Battle of Gettysburg and is massive in size! It will take you several minutes to walk around the perimeter platform just to see the entire thing. It's very detailed too!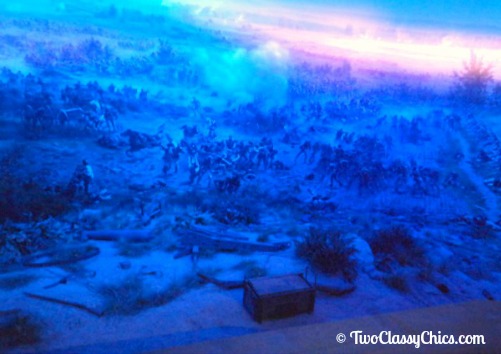 They dim the lights and you'll hear a narrator tell you all about the 3-day battle of Gettysburg and they enhance the entire experience with colorful lights, explosions, sounds of all kinds, etc. They really bring the battle to life! It's incredible to see & hear!
The Battle of Gettysburg Cyclorama is located in the Gettysburg National Military Park Museum & Visitor Center. They do charge admission to get into the museum and a separate admission to see the Cyclorama. For $15.00 per adult, we got to tour the museum, watch a film in the theater and got to experience the Cyclorama.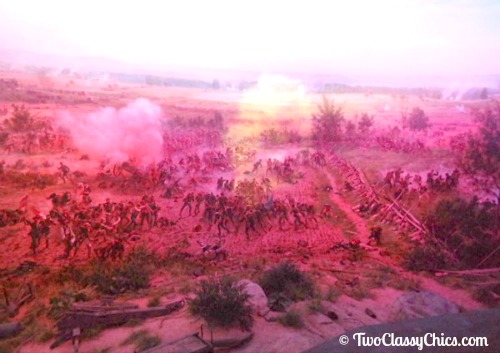 For my travel feature this week, I'm sharing with all of you a few photos that I took of the Battle of Gettysburg Cyclorama during our most recent visit. If you ever get the chance to visit, we highly recommend that you stop into the museum to see it. What an incredible experience!
* This post contains affiliate links. If you make a purchase, we may or may not receive a small commission which helps to support this site. Thank you!