With warmer temperatures on the way, our skin can definitely change along with the season. Not only can skin become dry and irritated, but can also react and become more sensitive, which can require a change in your cleansing routine.
Today I'd like to introduce you to a product that is ideal for your skin's seasonal needs—AllGlamR Rose Petal Cleanser.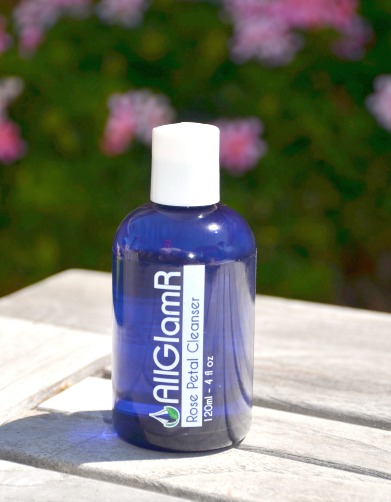 AllGlamR is a company that believes in keeping skin clean, hydrated and protected with a simple to use, easy to understand daily skincare regimen for people of all ages and skin types. AllGlamR's Rose Petal Cleanser is a new lightweight facial wash formulated with delicately fragrant Rosehip Seed Oil and Seaweed Extracts to gently remove dirt, impurities, and dead skin while regenerating new cell growth. Rosehips are known for heir healing properties and make a wonderful natural alternative to many other types of ingredients that dry and irritate the skin. Unlike heavier oils, Rosehip Seed Oil absorbs easily and quickly into the skin leaving it feeling soft and nourished. This gentle, yet powerful product helps to restore the skin's natural PH levels and delivers moisture that so many of us desperately need. Harvested from the seeds of rose bushes, the oil is full of vitamins A, C, E and F, antioxidants and essential fatty acids that are known to correct dark spots and hydrate dry, itchy skin, all while reducing scars and fine lines.
The Rose Petal Cleanser also influences collagen growth helping to reduce wrinkles and restore a firmer, smoother, younger looking appearance to every skin type and age. Some of the other benefits you'll find with the Rose Petal Cleanser are:
• Provides a thorough and deep cleaning
• Delivers collagen boosting Vitamin A to the skin
• Frees your skin of stubborn oil and sweeps away clean
• Helps with healthy regeneration of skin cells
• Gentle enough for hypoallergenic skin
I've been really enjoying using this cleanser every day (morning and evening) as part of my daily routine. It lathers nicely, feels luxurious on my skin and restores elasticity and protects against sun and pollution stressors that can lead to wrinkles. This product is manufactured in the USA, is Paraben free and handcrafted without harmful additives or irritants. It is also never tested on animals. The AllGlamR Rose Petal Cleanser is available in a four-ounce bottle on the company's web site.

Disclaimer: Kristine has personally reviewed the product listed above. She has not received any monetary compensation for her review but did receive a free product to try out so she could evaluate and use it for her review. Her thoughts & opinions in this review are unbiased & honest and your opinions may differ.