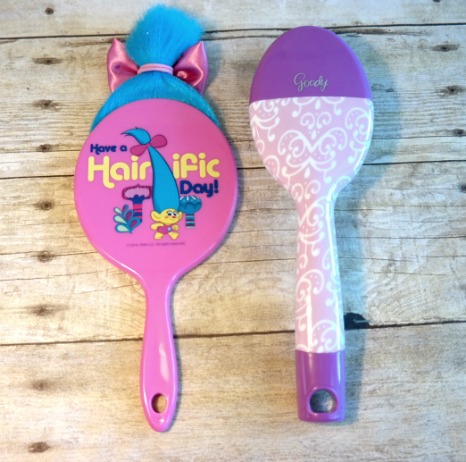 I got my very first Goody hair product when I was in my late teens and it was a hairbrush. That hair brush was my favorite one and I used it for almost 4 years until I lost it. Over the years I've grown to love the Goody line of hairbrushes, pony tail holders, head bands, hand-held mirrors and other hair accessories. Matter of fact, I'm always buying them for myself, my adult daughter and my granddaughter!
Summer is just around the corner and it's time to stock up on all of those adorable hair accessories for little girls. Check out these Goody products that we feel are must-haves for summer!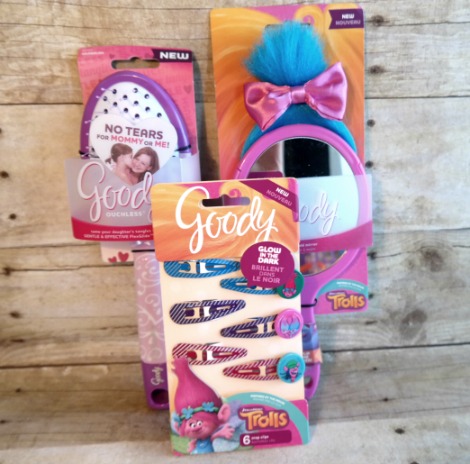 Every little girl needs a good hairbrush and we love the Goody Ouchless Hairbrush that comes in a variety of different styles and colors. This cushion-style hairbrush is perfect for taming your daughter's tangles thanks to the gentle & effective FlexGlide bristles. It's so gentle, she won't feel the snags and pulls.
To go along with the hairbrush we recommend the Goody Handheld Mirror in the adorable Trolls design! On the front you get a crystal-clear mirror and on the backside you get that adorable Trolls design. Gotta love that faux turquoise hair with satin ribbon bow! Super cute!
My little 8 year old granddaughter loves wearing barrettes in her hair, but they've got to be the snap-clips style. These type's of barrettes are super-easy to get in & out of your hair and they don't cause any tangles. We think the new Goody Trolls Snap Clips that glows-in-the-dark are super cute and my granddaughter loves wearing them in her hair! Snap Clips come in a wide variety of fun styles, sizes and colors.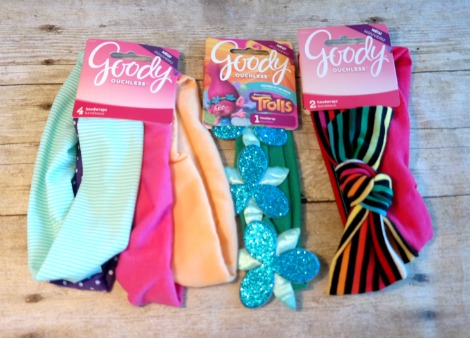 Headbands are a must-have in every little girl's fashion wardrobe! When it comes to headbands, we love the Goody Ouchless Headbands which come in a lot of different styles and colors. Your little girl can find one to go with just about any fashion outfit. Since our Princess has long hair, they're a must-have to keep her hair out of her face. The ouchless style won't give her a headache and won't cause snags going in or out of their hair.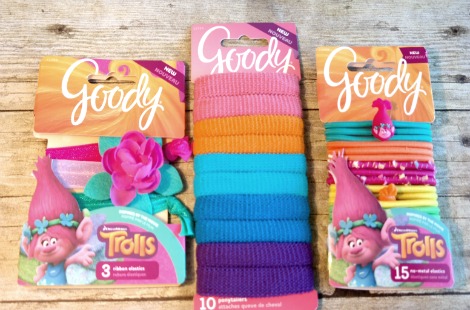 During the summertime it gets very hot & humid on the east coast, so if you have medium to long hair, it's typically thrown up in a pony tail to help keep you cool. My granddaughter loves using the ponytail holders and hair elastics by Goody. One of our favorites is the no-metal hair elastics which don't get snagged or tangled up in your hair. The Ponytailers are some of her favorites when she's swimming or out doing sports and they stay really secure in your hair, even when wet! If your little on is looking to add some pizzazz to her current hair style, check out the Goody Trolls Ribbon Elastics in fun super fun colors with attached floral designs.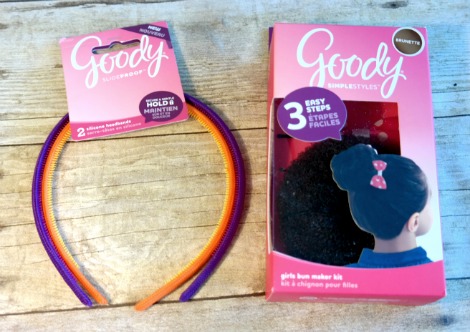 No hair accessory wardrobe would be complete without your classic-style Goody Silicone Headbands and the Goody Girl's Bun Maker Kit. If you're little girl has long hair, these fun hair accessories can give her a different look and it does it with style. Unlike those plastic headbands when I was a little girl, the Goody Silicone Headbands won't cause headaches, won't tug on hair and they definitely won't cause tangles. Little girls can easily slide them in and out of their hair.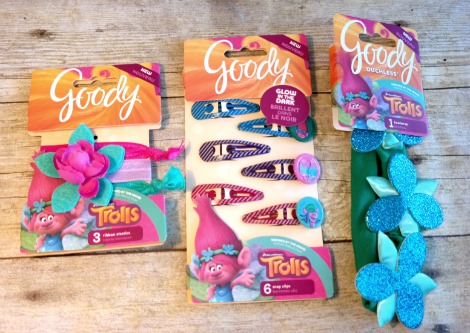 Giveaway: One lucky winner is going to win 3 little girl's hair accessories from Goody! The winner will receive the 3 items shown above: 1 pack of girl's Trolls barrettes, 1 pack of girl's Trolls Headband and 1 pack of girl's Trolls hair elastics. Thanks Goody!
Giveaway Details: This giveaway is open to residents of the US ONLY age 18 and over. Please read our Terms of Service & Disclaimer Policy before entering. This giveaway will close on May 16th, 2017 at 11:59 pm EST time. No purchase necessary to enter or win.

Disclaimer: Shelly received a complimentary product as featured in this blog post. No monetary compensation was received. Shelly's thoughts and words are 100% her own unbiased opinion on the company & products being featured today. The Two Classy Chics are not responsible for prize shipment or fulfillment. This post may contain affiliate links. If you purchase an item through an affiliate link, we may receive a small commission which helps to support this site.