The best part about summer? The heavenly scents in our beauty products, transporting us to a tropical getaway. While gearing up for the much anticipated season, it's time to break out everything and anything salt, citrus and gardenias.
Even for those days when you're stuck in the office, body care from Camille Beckman will have you smelling like a summer paradise from head-to-toe! The Camille Beckman products are gluten-free and they've never been tested on animals. I love the fantastic quality that you get and they're affordable!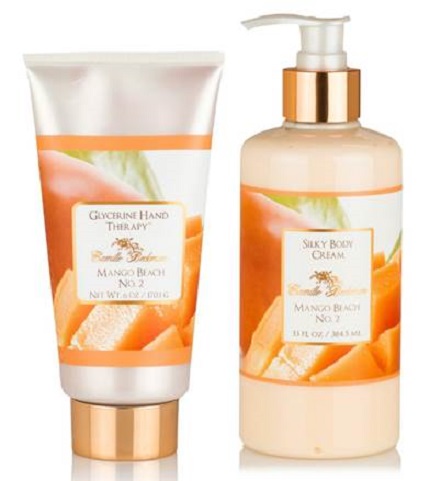 Mango Beach Glycerine Hand Therapy: Surrender to Island life with a delicious blend of succulent mango, coconut cream and Tahitian vanilla. Your hands will never be the same! The Glycerine Hand Therapy helps heal and restore the most dry, cracked and painful skin to its original glory within one use.
I worked for many years in the healthcare field and I'm addicted to hand washing. My hands are always extremely dry. Well, not anymore! This hand cream is the best that I've ever used, no kidding! I love the fragrance which reminds me of a tropical island and formulation is rich & creamy. It absorbs quickly into your skin and after just one use…you'll feel an amazing difference! I love that after application my hands feel soft & smooth with no sticky residue left behind. Oh my gosh, heavenly!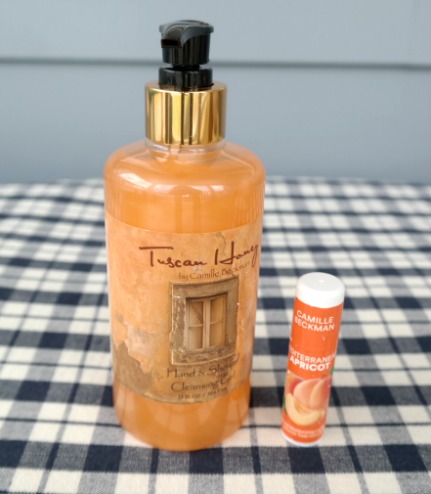 Tuscan Honey Hand & Shower Cleansing Gel: Enjoy the sweet scent of Italy at home. Warm amber, soft vanilla and gooey honeycomb weave a romantic world of nights spent in the Tuscany countryside. Perfect for the bathroom, kitchen or shower, this formula provides a deep, rejuvenating clean with moisturizing properties that will leave skin silky smooth.
I've always been a fan of body & skincare products that have been scented with vanilla and I have to admit…the Tuscan Honey Hand & Shower Cleansing Gel is amazing! It's unlike any other fragrance that I've ever smelled! You can smell a touch of honey, vanilla and I'm not sure what else but it's fantastic! After you shower with it your skin feels soft, silky and smooth! You get a really nice lather and it leaves behind a beautiful light fragrance on your skin. LOVE IT, LOVE IT, LOVE IT!!!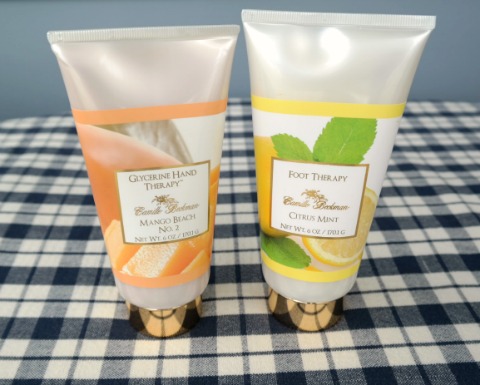 Citrus Mint Foot Therapy: Get your feet flip-flop ready with a refreshing burst of citrus. Within one use, you will see immediate results and less of cracked heels, painful calluses and dry skin. This vitamin-rich formula is infused with a signature herbal complex to revitalize, moisturizing ancient oils to restore and rich glycerin to renew the skin to its original condition.
This foot cream is super moisturizing and feels really nice on your skin. I like to slather it all over the top and bottom of my feet after I've showered. It absorbs into your skin really quickly and leaves your skin buttery soft! The citrus mint fragrance is really refreshing!

Natural Cocoa Butter Lip Balm: Made with organic cocoa butter, sweet almond oil and beeswax, this soothing formula goes on feeling like a soft gloss-like balm yet stays put and moisturizes for all-day smoothness.
The lip balm is available in 3 different flavors: Tropical Passionfruit, Mediterranean Apricot and Wild Rose. For the review I received the Mediterranean Apricot and wow…it's the best lip balm ever! I love how it feels on my lips and it isn't waxy at all. After a couple of uses, my lips now feel buttery soft and totally kissable once again!
This was my first time trying out all of these products and I can honestly tell you that I LOVE all four of them! They all do the job that they were intended to do, they all smell fantastic, all are easy-to-use and better yet, they are all affordable! I can't think of one negative thing to say! I absolute LOVE LOVE LOVE them!
You can learn more about the Camille Beckman beauty and skin care products by visiting the company's website online.

Disclaimer: Shelly received complimentary products to feature in this blog post. Shelly did not receive any monetary compensation. Shelly's thoughts, opinions and words are 100% her own unbiased opinion. Your thoughts may differ.