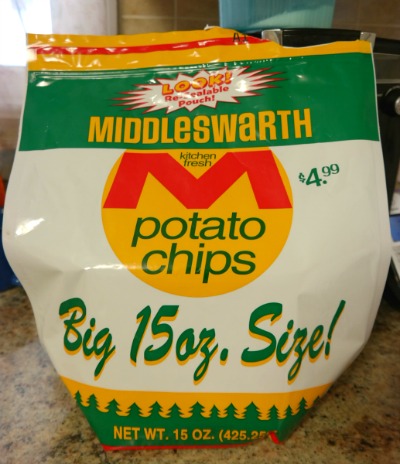 If you've been reading this blog for a few years…you'll remember that I used to post VENT topics pretty regularly when people or things irked me off. When I publish my vents…it's a way for me to de-stress and it's always nice to get the opinions of others.
Well, today I'm bringing back my VENTS and I'm ready to get this rolling again. Are you ready? I'm sure many of you can relate to this!
Last week I was working on my grocery list and saw a huge bag of potato chips sitting in the pantry. I thought to myself…oh good, I'm hungry for potato chips, so while I'm at the grocery store…I'll pick up some dips to go along with them.
Let me first say this: This bag of potato chips was one of those HUGE family-sized bags and I mean HUGE! It was sitting on the shelf and looked unopened since it's one of those zipper close bags.
I headed out and did my grocery shopping. I spent a whopping $185.00 on groceries. Yeah, I know…groceries are way over-priced these days. Anywho…..
The next day I was craving that bag of potato chips and the newly purchased French Onion dip. I headed out into the kitchen and spooned some dip into a dipper bowl and headed to the pantry to grab the bag of chips. My belly was growling and was really looking forward to eating those potato chips!
I grab the potato chip bag off the shelf and to my amazement, it felt extremely light. I was like… WTH is going on here???? I haul it over to my kitchen counter-top and open it up to find….Yup, you guessed it… CRUMBS. Oh my gosh!
As soon as my husband and my mother came home I quizzed them both on who ate the potato chips and who in the heck put it back on the shelf with just crumbs inside? Of course, they both denied that it was them. Yeah right! I guess the potato chip thief struck again. Damn it!
Why in the heck do people put potato chip bags, pretzel bags, etc. back on the shelf with just crumbs left inside? Same goes for freaking cereal! Why is it when I grab a box of cereal out of the pantry that only crumbs are left inside? What the heck is up with this? Seriously!
If you're ONLY leaving potato chip, cereal, pretzel, cracker or whatever crumbs…throw the crap out! Don't disappoint me by leaving ONLY crumbs for me to eat. Whatever!
Do you deal with that in your own household? If so, here's your chance to sound off about it! Let's do it!