When it comes to frosting, I'm all about using homemade frosting to top off my cupcakes, cakes and brownies.  I've tasted store-bought frosting and I admit, some of they taste pretty good, but in my honest opinion, NOTHING beats homemade!
One of my go-to recipes for frosting is super easy-to-prepare and you only need a handful of ingredients to make it. When I make homemade cupcakes, I often use this recipe because it's super creamy and delicious! This recipe will make approximately 3 cups of frosting, so if you're making a 2-layer cake or one large cake, you may have to double up the ingredients (make a double batch) to get the coverage that you desire.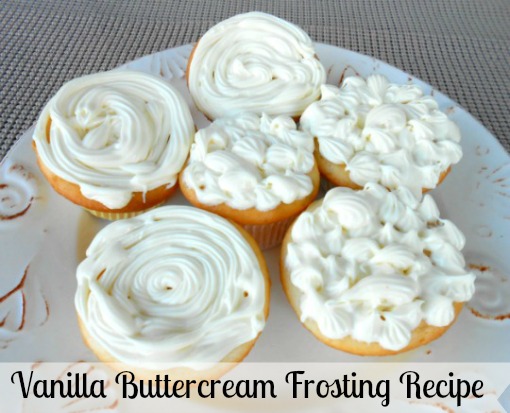 Vanilla Buttercream Frosting Recipe
1/2 cup butter, softened (not margarine)
4-1/2 cups confectioners' sugar
1-1/2 teaspoons vanilla extract
5 to 6 tablespoons whole milk
In a large mixing bowl, beat the softened butter with an electric hand-mixer until creamy. Beat in the confectioners' sugar, vanilla extra and milk. Continue beating until it reaches the desired consistency.
Note: If you want it to be stiffer, add a little bit of confectioners' sugar, 1 tablespoon at a time. If it's too thick, add 1 tablespoon at a time of milk. You can play around with that to come up with the consistency that you prefer.