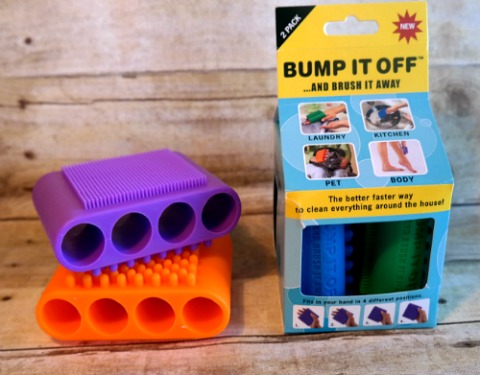 If you haven't already guessed, I'm a self-professed neat and clean freak. I'm one of those "rare" people who enjoys cleaning her home and making it nice & inviting for my family. I love to have everything clean, neatly organized and in its proper place. It brings me JOY!
Three times a year I give my home a good overall cleaning! I do it in the spring, the middle of summer and again in fall…to prepare for the upcoming holidays. By doing a deep cleaning three times a year, it keeps my home organized, clean and clutter-free. If you let things pile up, it will take you longer to clean in the long run!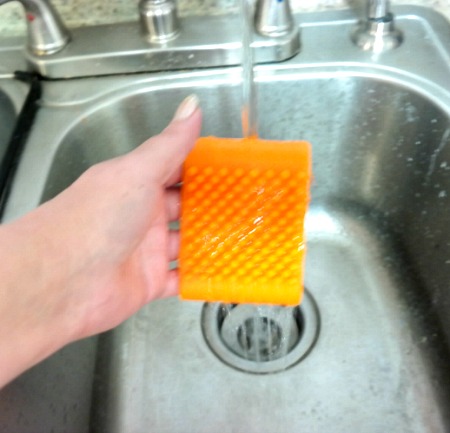 A couple of months ago Bailey introduced you to a cleaning product called BUMP IT OFF. You can revisit her post to read her particular thoughts on the product and how she used BUMP IT OFF on various cleaning projects around her home.
The company generously sent me a set of them too and now its my turn to share my thoughts with all of you.
BUMP IT OFF is a reusable silicone sleeve that fits on your hand in four different positions, enabling you to concentrate scrubbing power in the palm of your hand. With gentle silicone bristles on one side and smooth bumps on the other, BUMP IT OFF has endless cleaning applications in every room of your home.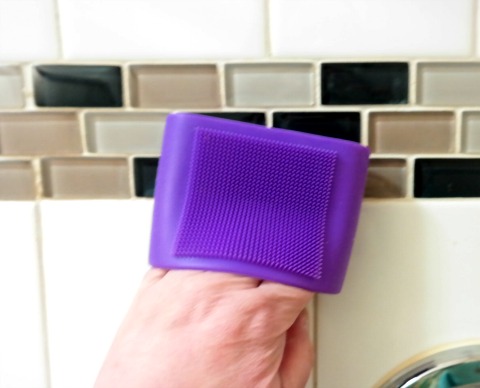 I decided to test them out in my custom-made master bathroom. This particular bathroom can be a real "bear" to clean. My husband built a stand-up 2-person shower that is quite large. It has 3 shower heads and a bench inside it. While I love the shower, it can be a nightmare to clean.
The BUMP IT OFF did a really get job at getting soap scum, dirt and gunk out of the grout from around each of the tiles. I used it on the tiled walls and the tiled shower floor and got equally great results. Definitely much nicer than using a regular sponge that doesn't work & fall's apart. In addition, I really liked using it to clean out the shower door track! Oh my gosh, there was a ton of soap scum, dirt & hair in that shower door track and the BUMP IT OFF fit down into the track perfectly and got all of that nasty stuff out of there!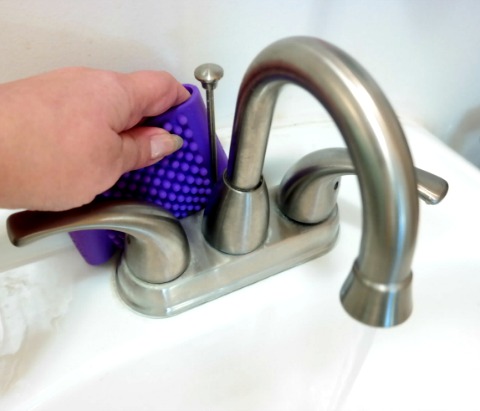 Another place that I liked using the BUMP IT OFF was around my sink's fixtures! We have a little white pedestal sink in our master bathroom and its really hard to get your hands & fingers behind the fixture (between the fixture and the wall) to get the soap scum, dirt & gunk out. It's such a tiny space back there and I was able to use the product with ease to get all of that nasty crap cleaned out and looking pretty!
This is not like a traditional sponge at all, it doesn't soak up liquids. It's made for cleaning and is more like a scrubber that fits onto your hand. It's reusable and can be used over & over again! After your done using it, simply clean it in the sink or toss it into the dishwasher to get it clean.
You can learn more about BUMP IT OFF by visiting the company's website online. Plus, please take the time to check out Bailey's review on BUMP IT OFF to see how she used it around her own home.
* This post contains affiliate links. If you make a purchase, we may or may not receive a small commission which helps to support this site. Thank you!

Disclaimer: Shelly received complimentary product to feature in this blog post. Shelly did not receive any monetary compensation. Shelly's thoughts, opinions and words are 100% her own unbiased opinion. Your thoughts may differ.