Unwind. Unplug. Relax. These are three words that I absolutely love and three words that aren't a big enough part of my life. I'm sure many of you can relate. Well, ladies—we need to take some time out for ourselves and a simple and easy way to do that is with a nice, long bath soak (accompanied by a glass of wine…or two).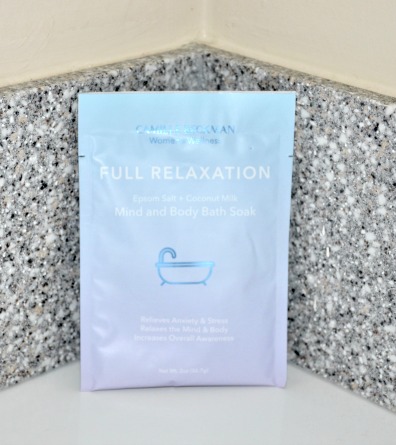 I recently was introduced to Camille Beckman's Full Relaxation – Mind and Body Bath Soak, which is an all-natural Coconut Milk and Epsom Salt Bath Soak that will ease your mind, relieve sore muscles and assist in soothing the effects of pain. I was already familiar with Camille Beckman's body lotions (love them), but didn't know that the company made a bath soak.
This luxurious and lovely bath soak is handmade in small batches and contains nourishing oils and healing Epsom salts as well as lavender and eucalyptus essential oils to calm the senses. It also contains help oil, coconut oil and shea butter to leave the skin feeling soft and refreshed. You'll love the way your skin feels as you soak and savor some relaxation time all to yourself! Whether you want to relax or help ease the pain of sore feet or an injury, this soak is the perfect little packet.
The Camille Beckman Full Relaxation – Mind and Body Bath Soak is available on the company's website for a really affordable price. What a great way to treat yourself to some much needed "ME" time. You can connect with the company on Facebook too.

Disclaimer: Kristine has personally reviewed the product listed above. She has not received any monetary compensation for her review but did receive a free product to try out so she could evaluate and use it for her review. Her thoughts & opinions in this review are unbiased & honest and your opinions may differ.