Last year my husband and I made a commitment to eat healthier foods and that includes eating a healthy breakfast every day. With that said, we often get tired of the eggs, pancakes, waffles, French toast, etc. So, I'm always looking for easy-to-make recipes for breakfast.
What's really nice about the oatmeal and blueberry breakfast bars is that you can make them the day or night before. You only need a few basic ingredients and you bake them in the oven, let them cool and then cut them into bars. To keep things interesting, you can change out the blueberries for strawberries, raspberries or cranberries which are equally as good.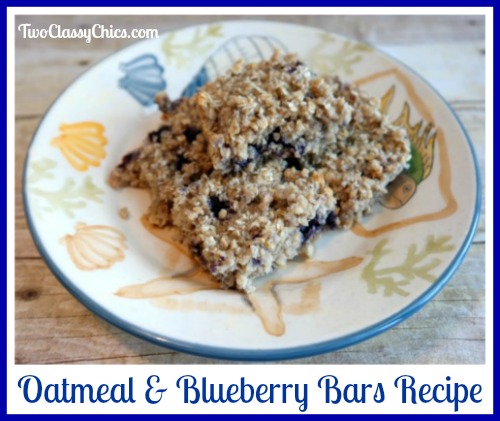 Oatmeal and Blueberry Breakfast Bars Recipe
Recipe type:
Breakfast Bar
Prep time:
Cook time:
Total time:
Easy-to-prepare and super healthy breakfast bars recipe. You can enjoy them for breakfast or as a snack. They can be served at room temperature as-is or warm them up in your microwave and serve topped with raisins, brown sugar, fresh fruit, ice cream or even milk poured over the top.
Ingredients
1½ cups Quick Cooking Oatmeal
½ cup granulated sugar
½ cup milk
1 large egg
¾ tsp. salt
¼ cup butter, melted
1 tsp. baking powder
1 tsp. vanilla extract
¼ cup Wyman's of Maine Frozen Blueberries, partially thawed
non-stick vegetable baking spray
Instructions
Preheat oven to 350 degrees F.
In a large mixing bowl combine together the quick oats, granulated sugar, milk, large egg, salt, melted butter, baking powder and vanilla extract until all eight ingredients are well-combined and blended together. Stir in ¼ cup of partially-thawed Wyman's Blueberries.
Lightly grease a 9" by 13" baking dish with non-stick baking spray. Spoon mixture into the baking dish in an even layer. Place baking dish into a preheated 350 degree F. oven and bake for 20 to 25 minutes or until done. Remove and let cool. Once cool, cut into bars and store in an airtight storage container.
Once you've cut them into bars, you'll want to store them in an airtight container. I store mine in the refrigerator but when my mother makes them, she stores them at room temperature. You can serve them as-is or add your favorite toppings. Everyone in my family LOVES these breakfast bars, including the kids!
* This post contains affiliate links. If you make a purchase, we may or may not receive a small commission which helps to support this site. Thank you!