Makeup is definitely a way to express your personal style or help accentuate a mood or vibe you want to convey. There are always hot new trends to try and basics to swear by. I was recently introduced to a company called Ecco Bella, that believes in creating products that beautify and protect not only their customers, but the planet as well. Eco Bella products are affordable and offer both anti-aging and anti-blemish benefits. I'm excited today to tell you about Ecco Bella.
From VitaminCells enriched Skin Care to FlowerColor Makeup infused with flower wax, Ecco Bella invents truly unique and natural beauty products for many different types of women. From the glitz and glam girl to the natural and neutral babe, there is a makeup from this company that will fit everyone perfectly. I received three different things to try out from Ecco Bella—a FlowerCrush Blush Refill with Paperback Single Compact, a Good for You Gloss and a VitamIn E Lip Smoother. Here's a closer look at each of them: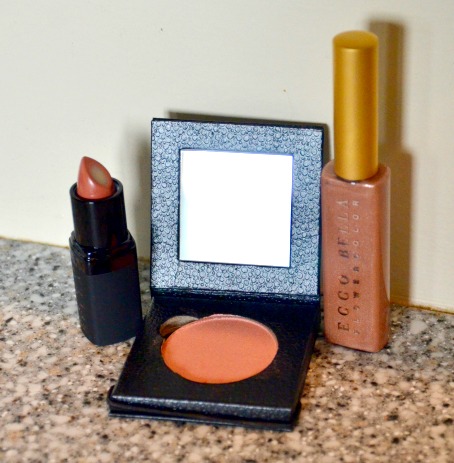 FlowerCrush Blush Refill – these powdered blush colors are made from natural pigments and feel silky and smooth. They are all naturally-colored in the full range for warm to cool skin tones and are made with pure and simple formula of sweet almond oil, natural pigments, flower wax and vitamin E. They are talc-free, fragrance-free and have no additives that could cause sensitivity. The blush is available in seven colors: Burgundy Rose, Peach Rose, Coral Rose, Orchid Rose, Earthy Rose, Wild Rose and Purity. I tried out the Purity and the color was warm and rich on my skin, which is on the fair side.
Refillable Paperback Single Compact – These blush palettes come empty and are designed to hold your blush refills. You can change them out, but keep reusing the compact, which I love. They are small enough to fit into a makeup bag for the girl on the go.
Good for You Gloss – this is a gorgeous gloss that will give you a pure, shiny look that isn't heavy or greasy. The gloss has a unique applicator tube that features a built-in mirror, so you can always sneak a peek when you are applying your gloss. The Good For You Lip Gloss is naturally preserved, gluten and FD and C dye-free. It is available in four shades—Pleasure, Power, Passion and Peace. I tried out Peace and it has the perfect shimmer to wear alone, but looks great when paired with a lipstick.
Vitamin E Lip Smoothers – these lipsticks are infused with healthy goodness to dramatically eliminate cracks and dryness while smoothing with a hint of color and shine. The FlowerColor Vitamin E Lip Smoothers have a core of vitamin E and tocotrienols, the latest discovery in Vitamin E research. My lips are always dry and itchy and this offers Vitamin E, which is so soothing on my lips. This product comes in four colors—Rhubarb, Spice, GoBare and Petal. It also is available in clear if you want all of the benefits, but not the color. I tried out GoBare, which was a very light, tan shade.
I enjoyed trying out the Ecco Bella products and especially love the Good for You Gloss. Eco Bella offers many other products on its website, so check it out to get some inspiration.

Disclaimer: Kristine has personally reviewed the product listed above. She has not received any monetary compensation for her review but did receive a free product to try out so she could evaluate and use it for her review. Her thoughts & opinions in this review are unbiased & honest and your opinions may differ.