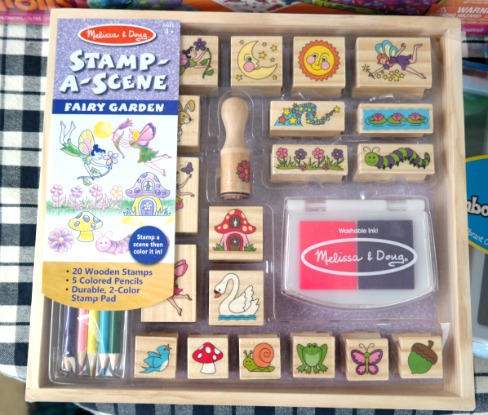 Kid's love arts & crafts projects and as parents and grandparents, it's our job to give them the creative tools to make them. As a grandparent, I hold bi-monthly crafting sessions with my granddaughter which is a great way to have bonding time with her and a great way for her to explore her creativity.
Getting children involved in various arts & crafts can be expensive. As a crafter, I'm well aware of how much things cost, so I'm always looking for great deals on craft supplies. One way that I keep costs under control is to purchase "craft kits" that are reusable. In other words, the supplies in those kits can be used over & over again, making hundreds of different projects. You really get your money's worth!
The Princess has jumped into the world of paper crafts and has been learning how to make scrapbook pages, handmade greeting cards, bookmarks, trading cards and all sorts of other paper crafting projects.
Recently we obtained the Melissa & Doug Stamp-A-Scene Fairy Garden Kit and I have to tell you, it's fantastic! It includes: 20 rubber stamps with wood backs, 2-color ink pad (pink & purple), 5 colored pencils and a wooden storage tray.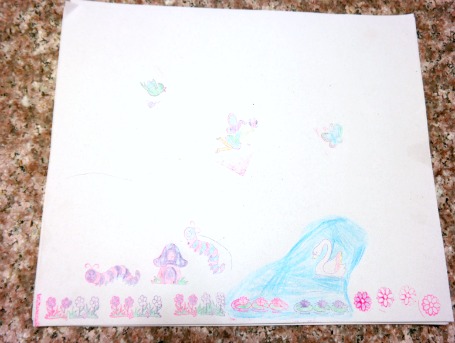 The entire theme of this kit: A fairy garden. The wooden stamps depict adorable little animals, fairies, flowers and mushrooms. All you really need to add is the paper or the stamping surface.
This kit is very versatile! Your little Princess can stamp out a Fairy Garden Theme onto paper and color it in with the included colored pencils. The stamps can be inked up and used to create embellishments for scrapbooking pages, inked up to create handmade greeting cards and all sorts of other things.
Typically craft kits that are made for children are usually on the low-quality side, but this one is different! The wooden stamps are a really nice quality and I admit, I've used a few of them on my scrapbook pages too! The Princess uses this stamping kit all of the time!
You can purchase the Melissa & Doug Stamp-A-Scene Fairy Garden Kit from various retailers across the nation. You can purchase it from Amazon for a great price too!
* This post contains affiliate links. If you make a purchase, we may or may not receive a small commission which helps to support this site. Thank you!

Disclaimer: Shelly received a complimentary product as featured in this blog post. No monetary compensation was received. Shelly's thoughts and words are 100% her own unbiased opinion on the company & products being featured today.  This post may contain affiliate links. If you purchase an item through an affiliate link, we may receive a small commission which helps to support this site.