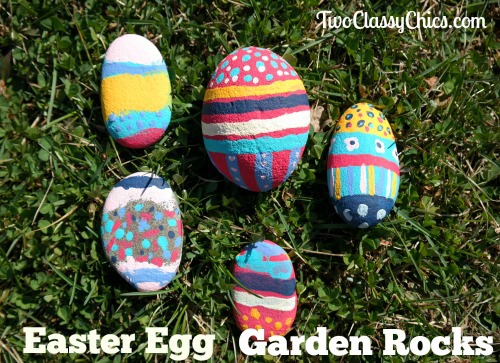 This year the Easter holiday comes late…during the month of April which I prefer. When the holiday falls in April the weather is warmer and I can leave my Easter decorations out for about 6 weeks. When it falls in March…well, we have Valentine's Day, St. Patrick's Day and Easter right in a row.
Last weekend the Princess and I decided that we better get busy with our Easter craft projects and whipped up our first one. These Easter Egg Garden Rocks are super easy-to-make and they're inexpensive! Young children can easily make them with adult supervision.
I get a lot of packages, so I save my plastic bubble wrap and we use it as a painting surface when we're making crafts. It's a LOT nicer than using newspaper! In addition, we go on a lot of family walks down by the river, lake or ocean and we're always collecting smooth rocks. If you don't have any, you can get them at a store that sells landscaping supplies.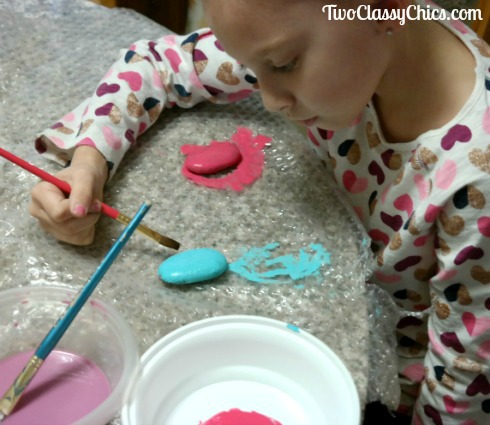 Kid's Craft Project: Easter Egg Garden Rocks
Smooth Oval Shaped River or Landscaping Rocks
Acrylic Paints in a Variety of Colors
Paint Brushes
Clear Acrylic Spray Sealer
Sheets of Recycled Bubble Wrap
Plastic Bowl with Water
Plastic Bowl Lid
Paper Towels
Lay sheets of bubble wrap or newspaper down onto your table-top surface. Fill a plastic bowl with water and use the lid to that bowl as a painting palette. We like to use empty butter dishes for this purpose.
Have the child paint their oval-shaped rocks a solid color. We painted several at a time and only one side at a time. Once the first side was dry, we flipped it over and painted the other side. Since we used acrylic paints, drying time was about 30 minutes per side. Once the entire rock is painted in a solid color and dry, it's time to decorate!
This is the fun part, letting the kids decorate their Easter Egg rocks however they like! They can paint on dots, circles, stripes, zig-zags, flowers, squares or any design that they prefer. I firmly believe in letting children be creative, so I don't tell them what to draw or paint. Their artwork shouldn't look like something an adult has made!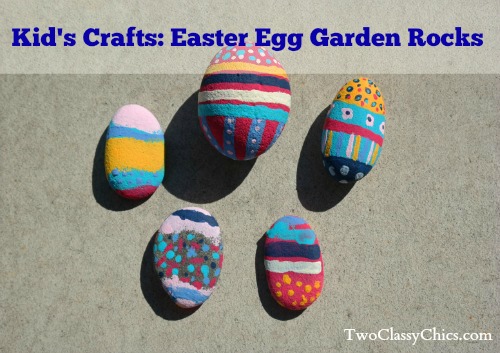 Once one side is decorated, set the rock aside to dry. Again, you'll need to wait approximately 30 minutes before you can flip it over to decorate (paint) the other side. After you're done decorating them, you'll want to let them dry overnight.
Take a sheet of bubble wrap outside and lay your new garden rocks on top. Lightly spray the topside of each rock with the clear acrylic sealer. If it's a warm and sunny day…it should take an hour to thoroughly dry. Once dry, flip the rocks over and spray a layer of clear sealer on the other side. Let them dry for a few hours.
That's it, your done making your new Easter Egg Garden Rocks! Since you sprayed the clear acrylic sealer onto them, they're safe for you to use them for outside decorating! We like to place a few of them in my flower bed by the front door, but you can use them wherever you like. Enjoy!
* This post contains affiliate links. If you make a purchase, we may or may not receive a small commission which helps to support this site. Thank you!