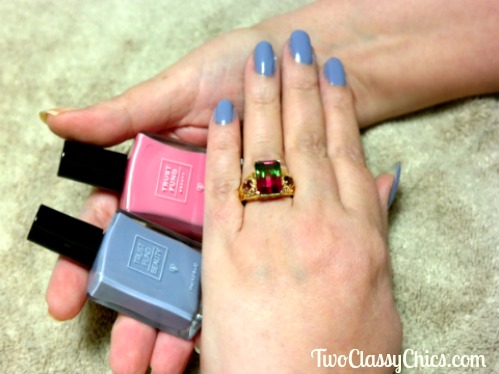 I love painting my nails and I admit, I do keep up on the latest and greatest nail polish trends. I sometimes like to keep things natural by going with a pretty neutral shade or nude, but most of the time I like to paint my nails pretty colors. I'm not afraid to paint them in neon colors, metallic's or even a pure shiny black!
I keep a large plastic storage bin filled with my manicure and pedicure supplies. At any given time, you would find no less than 30 different types and colors of polish. I treat myself to ME time every week and give myself a manicure, pedicure and change up my polish colors. After all, I DESERVE IT!
Twelve days ago I was introduced to Trust Fund Beauty who makes a line of vegan nail polishes that are just incredible! All of their polishes are non-toxic and 7 free which means they're free of toluene, lead, nickel, formaldehyde and other commonly used toxic ingredients!
The colors that they offer are vast and I love that I can find every day neutrals, fun & funky colors and everything in between. Not only do they offer a vast array of colors, all of the different colors that they offer are beautiful. Seriously, I would wear every single shade that they offer!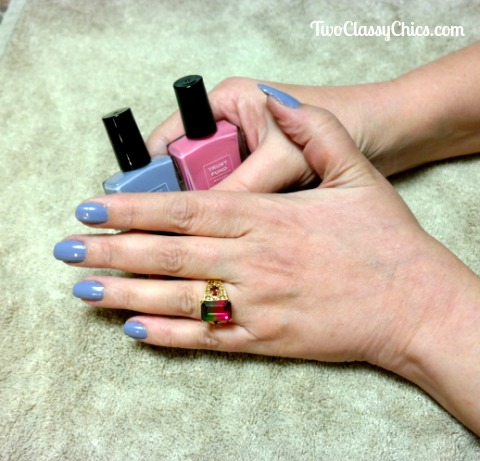 For this beauty feature, I received 2 complimentary bottles of nail polish. One is called "I'm Kind of a Big Deal" which reminds me of a piece of pink bubblegum. The second color is called "Elegantly Wasted" which is a beautiful medium-hued lilac shade. They're the perfect shades for little girls, teens, young women and even older women like me!
One of the things I love about the Trust Fund Beauty Nail Polish is the fabulous coverage that I get. Eight out of ten of my nails only got one coat and that was enough! I really like the consistency of the polish, it's not too runny, nor too thick…just perfect and it brushes onto your nails with ease.
Next, let's talk about the drying time. For myself personally, my nails were totally dry within 30 minutes. If I brushed on my normal fast-dry clear top coat, my nails were 100% dry within 15 minutes. I think their drying time (air drying) is quicker than most other brands.
Finally, let's talk about longevity. During the past twelve days, I only had to touch up 3 of my nails and trust me, I'm HARD on my nails! Typically, I get 7-9 days of wear out of most brands, but with Trust Fund Beauty, I can go at least twelve days before I would need to remove and replace my color.
Overall, I LOVE LOVE LOVE the nail polishes from Trust Fund Beauty! Matter of fact, I have my eye on a few additional shades that they currently have in their line-up. Head on over to their website to check out their nail polish collection. I think you'll love what you see!

Disclaimer: Shelly received complimentary product to feature in this blog post. Shelly did not receive any monetary compensation. Shelly's thoughts, opinions and words are 100% her own unbiased opinion. Your thoughts may differ.