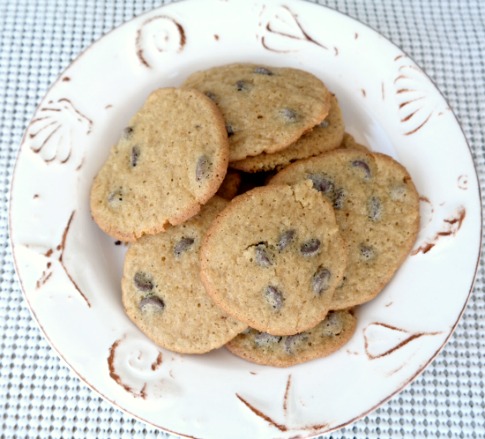 I admit, chocolate chip cookies are my all-time favorite cookies in the world and I could seriously eat them every day! When it comes to cookies, I like mine soft, chewy and filled with chocolate goodness!
I make a batch of homemade chocolate chip cookies every month and I try to vary the recipe, so that we don't get bored with them. Sometimes I switch up the flavor of the chocolates, add in some peanut butter into the batter, toss in some chopped nuts, etc.
Last week I used the Ghirardelli recipe that you can find on the back of the bag of packaged semi-sweet chocolate chips. They're one of my favorite brands! The recipe will make approximately 4 dozen cookies.

Ghirardelli Chocolate Chip Cookies Recipe
Prep time:
Cook time:
Total time:
Recipe is courtesy of Ghirardelli.
Ingredients
2½ cups unsifted flour
1 tsp. baking soda
½ tsp. salt
1 cup butter, softened
¾ cup granulated sugar
¾ cup brown sugar
2 tsp. vanilla extract
2 medium eggs
2 cups Ghirardelli Semi-Sweet Chocolate Chips
1 cup chopped nuts (optional)
Instructions
Preheat oven to 375 degrees F.
In a large mixing bowl, stir together the flour with the baking soda and salt; set aside.
Beat softened butter with the granulated sugar and brown sugar at medium speed until creamy. Add vanilla extract and eggs, one at a time, mixing on low speed until combined.
Gradually blend dry mixture into the creamed mixture. Stir in the chocolate chips and nuts (if desired). Drop by tablespoon onto ungreased cookie sheet. Bake in a preheated oven for 9 to 11 minutes or until done. Remove and let cool on a wire rack. Store cookies in an airtight storage container.
So, when it comes to homemade chocolate chip cookies, do you like using semi-sweet or dark chocolate chips? How often do you make cookies from scratch?
* This post contains affiliate links. If you make a purchase, we may or may not receive a small commission which helps to support this site. Thank you!