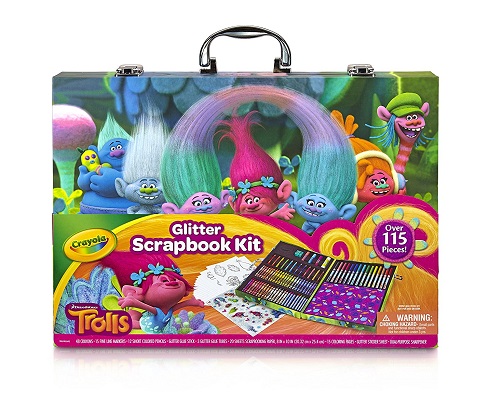 Scrapbooking, it's a crafting medium that I'm passionate about. I've been creating my own scrapbook pages since the 1980's, before it became all of the rage. Scrapbooking is a great way to preserve your family's memories and it helps to reduce stress. Gotta love that!
Since I love to scrapbook, it only seems natural that I would introduce this crafting medium to my almost 8 year old granddaughter. Even little children can learn this craft and it's one that allows them to get creative. When the Princess sits down to scrapbook, I give her duplicates of my original photos, that way if she messes up any…there is nothing to cry about.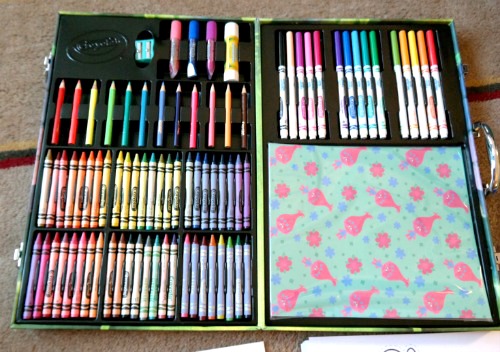 If your child is just learning how to scrapbook, I highly suggest that you pick up a kit that is made specifically for kids, like the Crayola Trolls Glitter Scrapbook Kit that contains art tools and sheets of scrapbooking paper. All of the supplies come packaged in an adorable suitcase-style case.
The kit includes: 64 crayons, 12 colored pencils, a pencil sharpener, 20 markers, 1 glue stick, 3 tubes of glitter glue, a glitter trolls sheet of stickers, beautiful sheets of scrapbooking paper and a bunch of trolls theme'd cut-outs that your little one can color in and then cut out!
My little granddaughter recently created two Trolls theme'd scrapbooking pages using primarily the supplies contained within the above kit.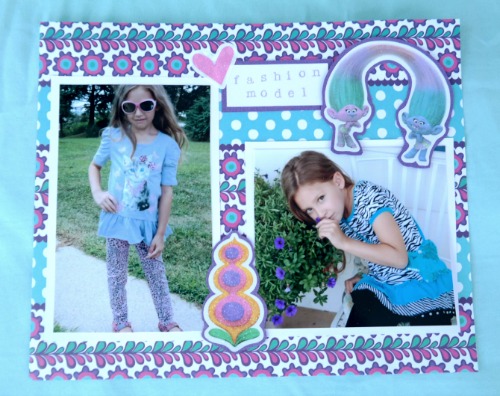 For the first scrapbooking page, she titled it "Fashion Model" and used two photos of herself modeling children's apparel. She cropped down her two photographs & then matted them onto white cardstock, leaving 3/16″ border. She used three of the Trolls glitter stickers from the kit as embellishments on her page. (two of the stickers she matted onto solid purple cardstock, trimmed around the edges & then applied them onto her page using foam adhesive squares). She made her title block by using wood stamp letters to spell out FASHION MODEL onto a white rectangular tag. She then matted that tag onto purple cardstock, cut it out and applied it onto her page. Cute!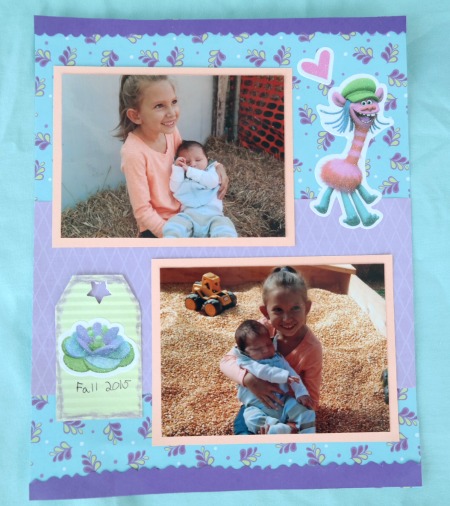 For the second scrapbooking page she used two photos of her & her baby brother from Fall 2015. She matted them onto peach colored cardstock. She cut a strip of light purple scrapbooking paper to measure 4″ by 8 1/2″ and applied that to her page (on the background). She cut out strips from solid dark purple cardstock using decorative edge scissors and used the glue stick to apply one at the top of her page and one to the bottom of her page (border strips). We had a pre-made paper tag that she added one of the glitter flower stickers onto it and hand-wrote the year/date. She used a "star shaped" punch to accent her paper tag. To finish it off, she added one of the glitter Trolls stickers to the top right to add accent.
As you can see…very simple designs that an 8 year old child can make with some adult assistance & supervision. I think both of her Trolls theme'd scrapbooking pages turned out nicely! Don't you?
To get your child started, all you really need to do is pick up a scrapbooking art kit like the Crayola Trolls Glitter Scrapbook Kit, some additional solid color scrapbooking papers, inexpensive wooden letter stamps, scissors, a pair of decorative edge scissors and you're ready to roll. Dig out some duplicate family photographs and let your kids get creative!
* This post contains affiliate links. If you make a purchase, we may or may not receive a small commission which helps to support this site. Thank you!

Disclaimer: Shelly received a complimentary product as featured in this blog post. No monetary compensation was received. Shelly's thoughts and words are 100% her own unbiased opinion on the company & products being featured today.  This post may contain affiliate links. If you purchase an item through an affiliate link, we may receive a small commission which helps to support this site.