I just got back from a trip to New York where the weather was cold and rainy. Now, I'm back to the warmth and sun in Cali, but no matter what kind of weather I'm faced with, I always want to keep my skin happy and healthy. I was recently introduced to a product called Frownies' Immune Shield, which is a barrier serum that is rich in antioxidants, peptides and beneficial lipids to soften and smooth the appearance of your skin. Frownies was founded in 1989 and believes in providing beauty and personal wellness for women throughout the world through an affordable, safe, effective natural anti-aging skin care system.
Immune Shield is the ideal product for not only softening your skin, but protecting it as well. It's especially helpful as an after sun care product addressing exposure to UV rays that cause redness (erythema) and oxidation on and in the skin leaving it dry, dull and damaged. The product also contains Vitamin E, which is a proven anti-oxidant that promotes healing and protects skin from scaring.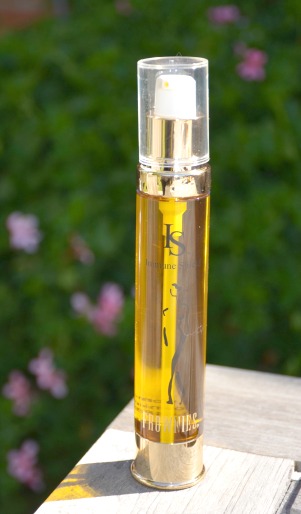 Immune Shield's fortifying and fabulous formula is made up of 100% whole plant-based ingredients such as:
• Hemp Seed Oil: This oil is able to penetrate the skin cells and won't clog your pores. It's safe for daily use and keeps your skin looking radiant and feeling like silk all day.
• Grape Seed Oil: High in anti-inflammatory antioxidants that have the ability to slow down the aging process and prevent acne (we all get breakouts), grape seed oil helps to reduce dark circles and minimize scars.
• Non GMO Avena Sativa Kernel Oil: Used for moisturizing and sunscreen, this product is loaded with essential fatty acids, vitamin E, and antioxidants to make for a must-have anti-aging serum.
• Sea Buckthorn Oil: This oil offers protection against UV rays, as well as treatment for sunburns. The sterols in the product help to restore your skin's moisture and retain it.
• Avocado Oil: Not only are avocados delicious, but their fatty, rich oils are extremely protective against the sun's rays. With avocado being very nutritious and packed with vitamins, it's the perfect solution for parched skin.
• Vitamin E: Whole vitamin E natural preservatives not only extend the shelf life of the product, but promote healing for your thirsty, dehydrated skin.
Use this serum daily after a shower or bath while your skin is damp. Immune Shield is your secret weapon against UV rays damage, wrinkles, scars and dry skin. It is available for purchase on the Frownies website and from Amazon for a really great price.
* This post contains affiliate links. If you make a purchase, we may or may not receive a small commission which helps to support this site. Thank you!

Disclaimer: Kristine has personally reviewed the product listed above. She has not received any monetary compensation for her review but did receive a free product to try out so she could evaluate and use it for her review. Her thoughts & opinions in this review are unbiased & honest and your opinions may differ.