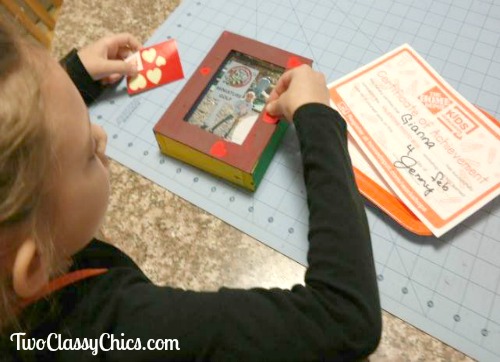 Every month we try to feature two Crafting with Kid's Craft Projects here on The Classy Chics blog. Over the past year, I've noticed that many of our readers have been enjoying those posts and have been trying out the featured craft projects with their own children and/or grandchildren.
How many of you are aware that Home Depot holds make-and-take wood craft days (during the weekends)  for children in their stores? We became aware of these kid's wood craft days a few months ago and we've been taking the Princess to them as often that we can.
Please Note: They're not a babysitting service! You can NOT drop your kids off and then come back for them. A parent or adult must stay with the child during these free classes.
I've been told that these FREE (yes, FREE) kid's craft days are held in many of their stores across the nation. The first class that the Princess attended they gave her a child-size Home Depot apron and she wears it to all of the classes.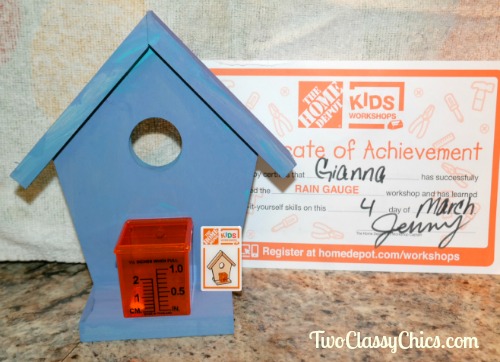 After they complete each of the projects at the store, they're given a certificate of completion, a new pin to add to their aprons and they get to take the newly made project home with them.
In my post today, you'll see two of the most recent projects that the Princess completed. You have to register for the classes and you can find more information about them via the Home Depot website online or visit/call your local Home Depot store.
The Princess is always PROUD of the items she has made and shows them off to everyone! The instructors at our local store in Harrisburg are really good with the kids! The kids just love this sort of thing!
If you're looking for something FREE and something FUN to do with your kids and grandchildren during the weekends, I highly recommend the Make-and-Take Wood Craft Classes at Home Depot!