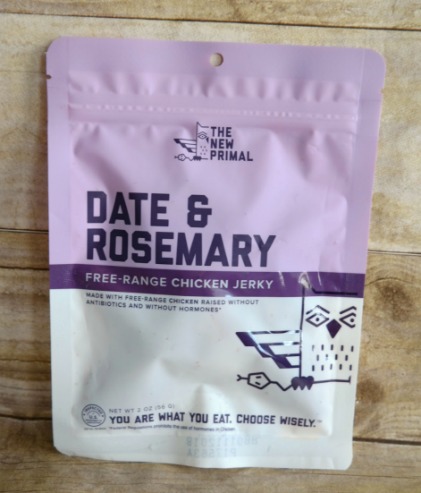 The New Primal is shaking up the jerky market with the launch of Date and Rosemary Chicken Jerky. It's AIP friendly, gluten free, Non-GMO, hormone and antibiotic-free, no added sugar, soy free, Paleo friendly, and made from free-range chicken. Not only is it the healthiest jerky in the world, but it tastes delicious.
The jerky market has been dominated with beef, masculine packaging and marketing to target men. We are targeting a new, untapped audience by launching a product that appeals to women with its lavender packaging, softer flavors and poultry meat. It's an easy way for women to incorporate more guilt-free protein into their diets.
We received a complimentary package of the Date & Rosemary Free-Range Chicken Jerky from The New Primal to try out for all of you. This jerky is made with free-range chicken raised without antibiotics and without hormones. The package that we received holds 2 oz. of product.
Ingredients: chicken, date syrup, pineapple juice, apple cider vinegar, rosemary, ginger, garlic, sea salt and lemon juice.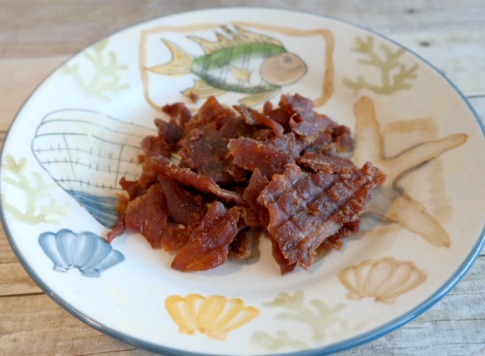 One of the things that immediately impressed me with this chicken jerky is the ingredients! I know what all of those ingredients are, nothing that's funky or things I need to look up.  The recommended serving size is 1 oz. which is approximately 60 calories, so it's great for those of us who are watching our weight.
Next, I was really surprised that my husband and I both enjoyed the taste (flavor) and the texture of this jerky. It wasn't all dried out and crumbly at all. It was chewy and savory. I found it best to just put a little piece into my mouth and let it sit there for a minute or two, so that I could really enjoy the flavor. It's a unique flavor combination that's delicious & satisfying to your taste buds.
This chicken jerky in the Date & Rosemary flavor is really good! My husband split the package and both of us devoured it in rapid fashion. The only drawback that I can think of is the package size. It comes packaged in a 2 oz. bag and everything you see on that plate was in the bag, so you don't get much. You can purchase The New Primal jerky products directly from the company's website.
Giveaway: One lucky winner is going to win one pack of Date & Rosemary Chicken Jerky from The New Primal.
Giveaway Details: This giveaway is open to residents of the US ONLY age 18 and over. Please read our Terms of Service & Disclaimer Policy before entering. This giveaway will close on April 6th, 2017 at 11:59 pm EST time. No purchase necessary to enter or win.

Disclaimer: Shelly received a complimentary product as featured in this blog post. No monetary compensation was received. Shelly's thoughts and words are 100% her own unbiased opinion on the company & products being featured today. The Two Classy Chics are not responsible for prize shipment or fulfillment. This post may contain affiliate links. If you purchase an item through an affiliate link, we may receive a small commission which helps to support this site.