Spring and summer are quickly approaching and many of us are anxious & excited for it to arrive. Along with the warmer seasons come family get-togethers, backyard barbecues and patriotic holiday theme'd parties. If you enjoy drinking lemonade and want to incorporate that lemonade flavor into a delicious cocktail drink, I think you'll appreciate our guest-post recipe today from the folks over at Sparkling ICE.
One of the things I like about this recipe is that it's super easy-to-prepare and it's blue! The perfect cocktail to serve at your Memorial Day, July 4th and summer theme'd parties! It will make approximately 4 servings.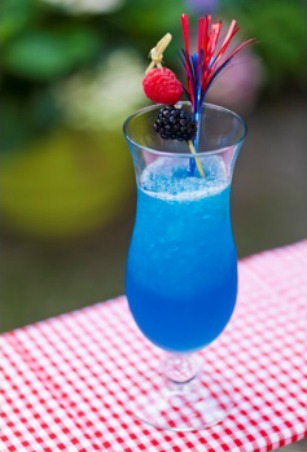 Blue Frozen Lemonade Cocktail Recipe
6 Ounces white rum
4 Ounces blue curacao
12 Ounces Lemonade Sparkling Ice
Fresh fruit, for garnish
Ice
In a blender, combine all ingredients and blend on high until it becomes slushy. Pour into a chilled fishbowl and garnish with large skewers of fruit and party straws for sharing. Not interested in serving them that way? Don't worry, just pour the mixture into chilled glasses!
Fruit garnishing ideas: I think using red strawberries, blackberries, red raspberries and pitted cherries would be great additions! Add in colorful straws or those tropical cocktail drink umbrellas would be great too!
Looking for some easy-to-make and fun-to-prepare cocktail recipes? We've got hundreds of them right here on Two Classy Chics blog! Just click the link and browse through our massive collection of cocktail drink recipes!
* This post contains affiliate links. If you make a purchase, we may or may not receive a small commission which helps to support this site. Thank you!