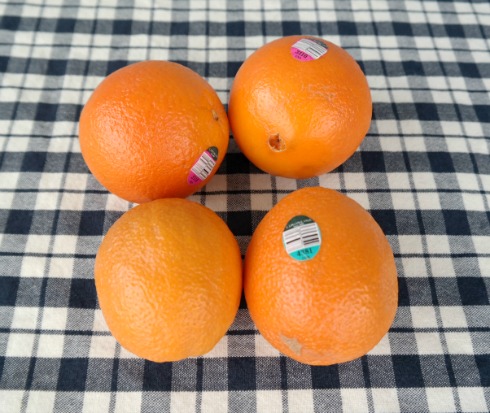 For the past few months I've introduced you to the Limoneira Company, a 124-year-old international agribusiness headquartered in Santa Paula, California, has grown to become one of the premier integrated agribusinesses in the world. Limoneira is a dedicated sustainability company with approximately 10,700 acres of rich agricultural lands, real estate properties and water rights in California and Arizona. The Company is a leading producer of lemons, avocados, oranges, specialty citrus and other crops that are enjoyed throughout the world.
Here are 5 Ways to Use Oranges + a Tropical Fruit Salad Recipe along with our personal thoughts on the Cara Cara and Blood Oranges from Limoneira.
As with most types of citrus, Limoneira oranges are versatile, delicious fruits with a seemingly endless array of possible uses. We've put together an array of recipes featuring these delicious, seasonal citrus fruits.
Uses for specialty citrus:
1. Deodorize – Squeeze the juice of one Cara Cara or blood orange and the juice of one lemon into the liquid detergent compartment. Run the dishwasher while empty and set to steam dry. The citric acid in the fruit will help neutralize the odor, leaving your kitchen smelling sweeter in no time!
2. Exfoliate – A good face scrub is a key component in any skincare routine. Take 2 TBSP coconut oil, ½ a juiced Cara Cara or blood orange, and ¾ cup coarse sugar. Mix together and use as an exfoliating scrub on clean hands or on your body.
3. Hydrate – Did you know that Vitamin C is good for your hair, as well as you skin? Create an orange-lemon rinse using: ¼ cup freshly squeezed orange juice, 1 tsp lemon juice, 1 cup warm water and 1 teaspoon honey. After straining the lemon and orange juice for pulp, add all ingredients together. After shampooing your hair as normal, pour the orange-lemon rinse into your hair slowly, massaging it into your scalp and working it through the hair to the ends. Leave in for 5-10 minutes and rinse thoroughly. Your healthy, shiny hair will thank you!
4. Clean – What you'll need: a glass jar, citrus peels (two oranges, one grapefruit and one lemon), white vinegar and a clear spray bottle. Simply trim away as much of the white pith as possible from the citrus peels and place in a jar. Pour in enough white vinegar to cover the peels and cover the top of the jar. Let this mixture sit for 1-2 weeks, or until the vinegar has turned dark orange. It should also smell of oranges – if it doesn't, allow it to sit longer and/or add more peels. Shake the jar every 2 days to speed the process – then, transfer to spray bottle and use as desired.
5. Snack – Of course, we'd be remiss if we didn't recommend simply snacking on these delicious citrus fruits from time to time. Eating an orange a day can go a long way towards keeping your skin and hair healthy!
If you're on the hunt for recipes, the Limoneira Pinterest and YouTube channels will be your new best friends.
Bonus Tip from Shelly – Chop up the rinds from your citrus fruits and place them into the garbage disposal. Let them sit in the disposal for 10 minutes. Turn your water on and run the disposal as you normally do. The citrus helps to deodorize the garbage disposal and keeps foul odors at-bay.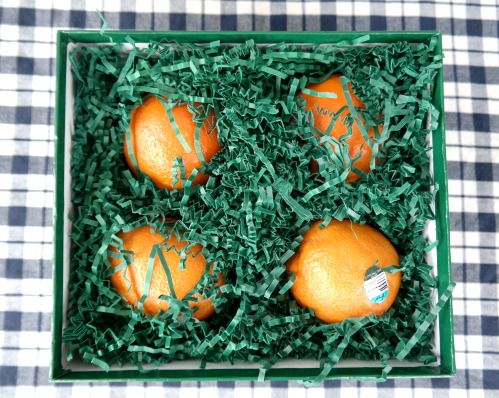 We love to eat citrus fruits and I'm a big user of using citrus fruits to clean my home and for personal care. I received a complimentary box of Cara Cara and Blood Oranges for this feature and I'm excited to tell you about them.
First…the best way to enjoy an orange (in my honest opinion) is chilled, so I placed two of my oranges into the refrigerator overnight to get nice and cold. The next day my husband and I peeled one of the Cara Cara and one of the Blood Oranges and ate them for a snack. My favorite was the Blood Orange and hubby loved the Cara Cara.
I saved my orange peels and followed the directions on tip #4 to come up with a natural all-purpose cleaner. I used that citrus cleaner to give our refrigerator, freezer, microwave oven, kitchen counter-tops and stove-top a good spring cleaning. I loved how well this homemade cleaner worked and better yet, it's safe to use on surfaces that regularly touch your food or eating utensils. I ONLY use cleaners like this to clean the inside of my refrigerator and microwave oven. Next, while you're using the cleaner, you feel like your standing in the middle of a citrus orchard. By the time I was done, everything was sparkling clean and my entire kitchen smelled fantastic!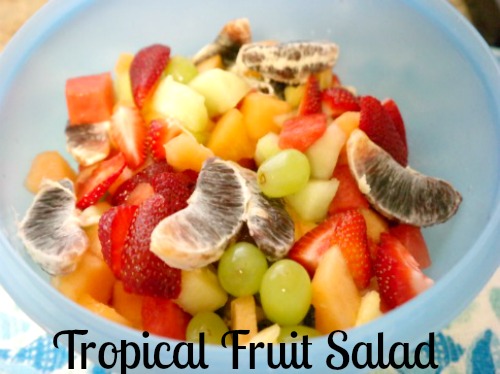 Shelly's Tropical Fruit Salad: I used the remaining oranges in a homemade fruit salad that I had thrown together and everyone loved it. I used the oranges, watermelon, honeydew, cantaloupe, strawberries, pineapples, red seedless grapes and green seedless grapes. I placed them all into a bowl along with some homemade fruit juice (ran a few of them through my juicing machine) and chilled the fruit salad for 4 hours. Right before serving time, I sliced up 2 fresh bananas and tossed the banana slices in too! If I would of had some cherries on-hand, I would of tossed those in too! Oh my gosh, delicious!!!
You can learn more about Limoneira by visiting the company's website online. You can check out our 10 Ways to Use Lemons This Summer article that uses lemons from Limoneira too!
* This post contains affiliate links. If you make a purchase, we may or may not receive a small commission which helps to support this site. Thank you!

Disclaimer: Shelly received complimentary product to feature in this blog post. Shelly did not receive any monetary compensation. Shelly's thoughts, opinions and words are 100% her own unbiased opinion. Your thoughts may differ.