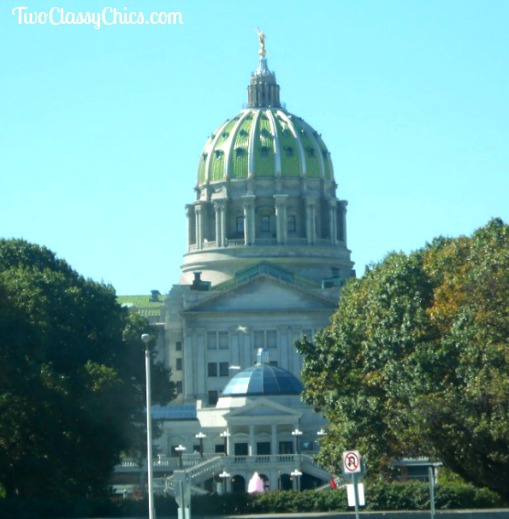 Our weekly travel feature this week feature the Pennsylvania State Capitol Building in Harrisburg Pennsylvania. The building was dedicated on October 4th, 1906 and then President Theodore Roosevelt attended the ceremony. The building itself is registered as a National Historic Landmark.
According to their official website, the building cost $13 million to build and furnish. Back in those days, $13 million was a LOT of money. Can you imagine what it would cost to build that same building now? Oh my gosh..I bet close to a billion.
The building is open for tours 7 days a week, excluding major holidays. They offer up "guided tours" which last approximately 30 minutes in length. You need to allow extra time to get through their extensive security process before taking the tour which includes having your bags put through the x-ray machine, metal detectors and at times…"pat downs" of the body. These security measures are in place to make sure we can all tour this beautiful building safely.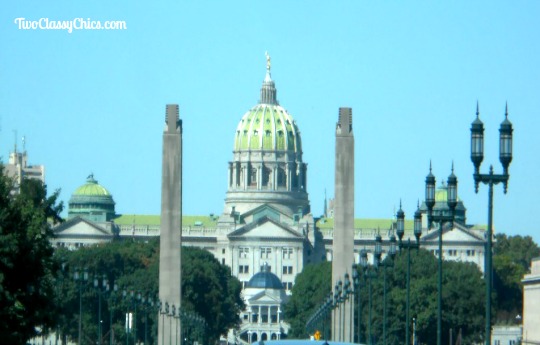 After you've completed the guided tour…you can do a little bit of souvenir shopping in the PA. Capitol Shop located off the East Wing Rotunda. The gift shop is only open 5 days a week, Monday through Friday and closed on weekends.
Obviously, this state capitol building is in my home state and not far from our home. When we travel, we try to pass through various state capitol's, so that we can see what their state capitol building looks like and if time permits, we love taking tours in them. We love politics and government, so it's only obvious that my husband and I would enjoy this.
So, this week's travel feature is on the Pennsylvania State Capitol Building located in Harrisburg. If you ever get a chance to visit or if you plan on passing through, you'll want to stop in for a tour. It's a really fabulous place to see!