Beautiful skin doesn't come easily, especially when you hit the big numbers – the big 4-0, the big-50—you get the drift. It's something you have to work at and commit to. I'm in my 40's and I feel like I do a pretty good job of cleansing, moisturizing and exfoliating, but when I went to have a facial last week, the esthetician politely suggested that I needed some of the "stronger products," more than once. Enough said.
It's a great thing for me that I was recently sent some skin care products from Environ. Environ is a 25- year old global company that was created by Dr. Des Fernandez, a world-renowned plastic surgeon and skin care researcher and formulator. The entire Environ product line is based on a unique "Step-Up System," which means that all of the products are based on varying intensities and levels of active ingredients. These products are intended for use on all skin types, people of all ages, all ethnicities and both women as well as men. All of the Environ products are made from the highest quality products, are hypo-allergenic and fragrance free, and are cruelty free.
I have been using Environ products from two different lines—the Environ Body Range and the Youth EssentiA Range. I've been really enjoying using both sets of these skin care products. Here's an overview on each of these product lines: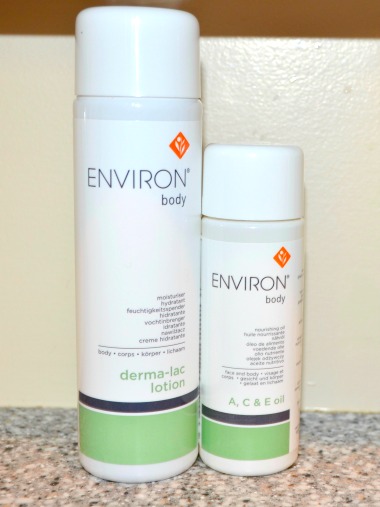 Body A, C & E Oil – this is a very fine, nourishing oil that contains a high dose of Vitamins A, C and E (hence the name). It really gives your skin an extra dose of moisture and was created especially for people with the look of sun damaged skin. It's recommended to use this product in the evenings in conjunction with the Derma-Lac Lotion.
Body Derma-Lac Lotion – this lotion is lightly fragranced with bitter orange and is ideal for those of us with dry, rough skin. My skin definitely dries out in the winter and this lotion (which is a thin, clear liquid and not thick like you would expect a lotion to be) does an excellent job of softening and hydrating my skin. Use this product on elbows, feet and knees, where you would typically get those rough patches. It's pretty amazing how your skin will drink it in. It's also perfect for sun-damaged skin, especially when combined with the A, C & E Oil. This is a product that you should introduce slowly to your skin over time and also be aware of being in the sun after applying this product as it contains alpha hydroxy acid, which may increase your skin's sensitivity to the sun.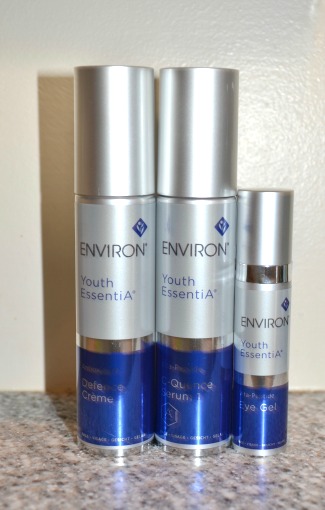 Youth EssentiA Defense Crème – enriched with several antioxidants (vitamin C, vitamin E and rosemary leaf extract) that help fight free radical damage, this is a moisturizing product that with give your skin a soft, silky feel and youthful appearance. It also helps to protect the skin from damaging UV rays and helps nourish and hydrate your thirsty skin. Use this product after cleansing in the morning and evening and for best results combine it with the C-Quence Serum.
Youth EssentiA C-Quence Serum 1 – this product is the first level of the unique Step-Up System and contains a smaller concentration of vitamin A, vitamin C and vitamin E to help combat free radicals and keep your skin sporting a healthy glow. It also contains peptides that help reduce the visible signs of aging and firming the skin. This product combined with the Defense Cream is my new obsession. I absolutely adore the way these products feel on my skin and while I haven't been using them long, I can tell that this combination is a winner for me.
Vita Peptide Eye Gel – this eye gel is quick-absorbing and super hydrating and minimizes the fine lines around your eyes. Simultaneously, it helps to improve sun-damaged skin cells and enhances the skin's natural sun protectors giving it a healthy glow. It contains essential vitamins, peptides and antioxidants to help give your skin around your eyes the moisture it needs. Use a tiny bit of this product in the morning and evening for best results.
This is just a small sampling of the Environ line of skin care products. All of the company's products are formulated to achieve the healthy skin results that we're all seeking. Check out their website for more information on the entire line and where you can buy them.

Disclaimer: Kristine has personally reviewed the product listed above. She has not received any monetary compensation for her review but did receive a free product to try out so she could evaluate and use it for her review. Her thoughts & opinions in this review are unbiased & honest and your opinions may differ.