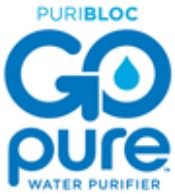 In our house, we've been trying to reduce the number of plastic water bottles that we use. We've been filling pitchers with filtered water and using recyclable bottles more and more. I can't say that I trust the water straight from the tap, as I'm sure many others feel the same way. I was definitely looking forward to trying out a product that would allow me to purify my tap water simply and easily. The GoPure Pod is a portable, reusable tap water purifier and enhancer for travel, work or home.
The GoPure Pod is about 2 inches long and can be dropped into any reusable bottle or container, coffee pot, pitcher or even in a dog bowl. This incredible little pod will continuously purify and enhance your water allowing you to enjoy clean, great tasting tap water. One GoPure pod will keep working for up to six months and can treat up to 264 gallons of water—I was amazed when I read that. The GoPure pod has the potential to keep 2000 single-use water bottles out of our landfills and environment.
This product is really different from anything else that's on the market. Inside the incredible little Pod is an advanced, highly porous ceramic made from food grade minerals of biogenic origin. Processed with patented technology the GoPure Pod continuously attracts and adsorbs impurities, balances pH and releases valuable trace minerals. It removes 99% of lead, arsenic, e.coli and 97% of chlorine and fluoride.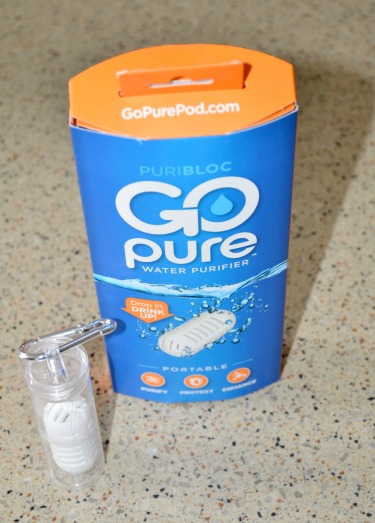 If you are wondering how this is different from all of the other products you may have come across, let me tell you what makes this one truly unique.
• It's portable – as I mentioned above, it's pretty small—basically the size of your thumb. You just drop it in your vessel of choice and it purifies, protects and enhances your water.
• It's reusable – you can use it over and over for up to six months. I really love this part, as it's important to me to try and reduce, reuse and recycle as much as possible. Save the planet, people.
• It protects – this product is always hard at work absorbing impurities and contaminants such as lead or chlorine, preserving freshness and preventing orders that lead to bad taste.
• It enhances – it re-mineralizes and balances pH for healthier water. With 56-60% of your body composed of water, you want to make it good, don't you?
I've tried many other products and love that this one doesn't have a filter that you have to keep changing. The materials in this product highly durable and will not erode away during cleaning, unlike many competitors. The GoPure Pod should be rinsed periodically to remove any adsorbed impurities and keep it keep purifying perfectly.
The GoPure Pod can be purchased on the company's web site and is available for $24.95.

Disclaimer: Kristine has personally reviewed the product listed above. She has not received any monetary compensation for her review but did receive a free product to try out so she could evaluate and use it for her review. Her thoughts & opinions in this review are unbiased & honest and your opinions may differ.