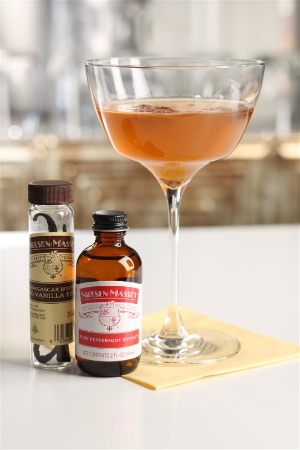 A few months ago my daughter Shelly got a bottle of the Pure Peppermint Extract from Nielsen-Massey and we've been using it and experimenting with it ever since. I'm a big fan of peppermint-flavored desserts, beverages and candies, but had never thought of using it in an adult cocktail recipe until now.
Check out this easy-to-make guest post recipe from the great folks over at Nielsen-Massey.
Peppermint Mocha Cocktail Recipe
8 drops Nielsen-Massey Pure Peppermint Extract
1/4 fl. oz. Amaro
1/2 fl. oz. Vanilla Syrup (see below)
2 fl. oz. Espresso-Infused Vodka (see below)
Chocolate shavings for garnish
Combine all ingredients in a shaker, add ice and shake vigorously. Strain and pour in a cocktail glass. Garnish with chocolate shavings.
Espresso-Infused Vodka
1 cup espresso beans
1-750ml bottle of Vodka
Toast espresso beans on foil-covered baking sheet for 3-5 minutes at 450 degrees F, until you smell the classic coffee aroma. Beans should look oily and dark brown, not black. Steep beans in vodka for 20 minutes and then strain.
Makes 750 ml
Tip: With our flavors, no need to chop, zest or juice–simply measure and pour.
Vanilla Syrup
Makes 1 cup
1 cup sugar
1 cup water
1 Nielsen-Massey Madagascar Bourbon Vanilla Bean
In a saucepan over medium heat, combine water and sugar and bring to a boil. Stir until sugar fully dissolves. Split the vanilla bean, scrape the seeds and add the bean and seeds into the saucepan. Remove from heat. Steep for 30 minutes. Remove bean.
* This post contains affiliate links. If you make a purchase, we may or may not receive a small commission which helps to support this site. Thank you!