Unlike a lot of people, I love to clean my home and I take great pride in doing an excellent job at keeping my home clean and organized. When it comes to cleaning, I try to use natural cleaning products and often times you'll find me experimenting with homemade cleaning product recipes.
Even though I love to clean my home, there is one thing that I'm not fond of cleaning and that's my oven! Since I love to cook and bake, my oven gets a royal workout every week. To stay on top of it…I like to give it a light cleaning every 2 weeks and then a deep cleaning every other month.
If you hate cleaning your oven too, my best piece of advice to you is to keep on top of it and don't let the grease, dirt and grime accumulate! The longer you let it go, the harder it will be to clean!
When it comes to cleaning my own oven…here are the recipes that I use.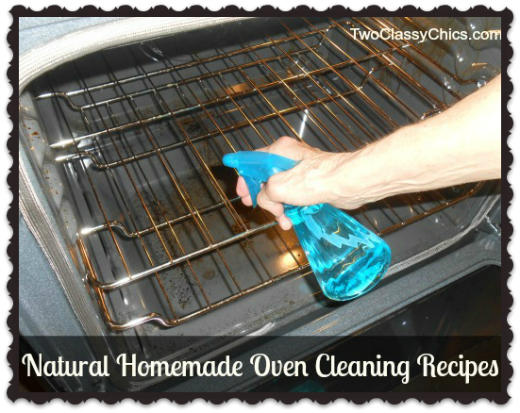 Natural Oven Cleaner Paste Recipe
2 Tbsp. Lemon Juice
3/4 cup Baking Soda
1/4 cup White Vinegar
1/2 tsp. salt
In a small mixing bowl combine together the above ingredients. I like to mix mine together with an old wooden spoon. You want the mixture to be the consistency of a paste, so you may need to add more baking soda or lemon juice to get the desired consistency.
Spread the paste immediately onto the dirty areas inside your oven. If the spot is really dirty, I put a thicker layer of the paste. Let this paste sit for 2 hours. Use a scrubbing sponge to scrub up the debris…it should come off fairly easy. Wipe up all of the lose debris and paste. Use a wet cleaning sponge to finish cleaning up any residue, air dry.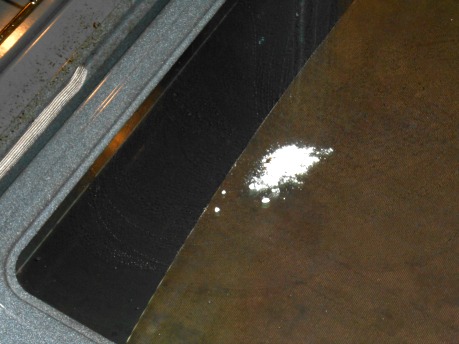 Borax and Dish Soap Oven Cleaning Recipe
1/8 cup Liquid Dish Soap
2 cups Hot Water
1/4 cup White Vinegar
3 tsp. Borax
1/2 box Baking Soda
Add the Borax, hot water, white vinegar and liquid dish soap to a spray bottle. You may need to adjust the amount of liquid ingredients depending on the size of the spray bottle that you're using. Gently shake bottle to mix up the ingredients.
Spray this mixture over the areas inside your oven that need to be cleaned. Sprinkle baking soda on top of the sprayed area and then spray with the mixture for a second time. Close oven and let sit overnight or for at least 6 hours.
After the mixture has sat for the required amount of time, use a clean, wet and slightly soapy (with liquid dish soap) cleaning sponge to scrub out the debris, grease and grime. Rinse sponge frequently under warm running water. Continue until the oven is completely wiped out and clean. Air dry.
* This post contains affiliate links. If you make a purchase, we may or may not receive a small commission which helps to support this site. Thank you!