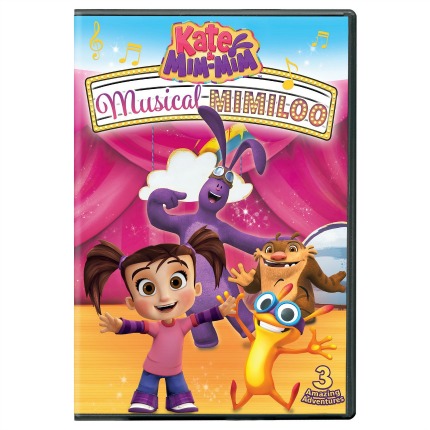 Do you have little ones who are fans of Kate & Mim-Mim? If so, we've got a brand new children's DVD release to tell you about today.
Public Media Distribution, LLC announced it is releasing three stories from the popular series "Kate & Mim-Mim" on the DVD "MUSICAL MIMILOO." These three toe-tapping tales will have kids dancing and singing as they watch Kate and Mim-Mim solve problems and help their friends. In these three adventures, Kate leads a quest to fix Callie's Mega Music Maker, an island-sized instrument, Kate and friends put on a trumpet flower concert for the Boom Chicka Queen, and Gobble uses his ability to sing to free the group from a cave!
"MUSICAL MIMILOO" will be available on DVD March 21, 2017. The DVD run time is approximately 35 minutes and its SRP is $6.99. The stories included on this DVD are below. Episodes of "Kate & Mim-Mim" are also available for digital download.
"Mega Music Maker"
Kate is building a sand castle, but the wind chimes she places on top aren't working. In Mimiloo, after Mim-Mim accidentally breaks a one-of-a-kind music recording, Kate, Mim-Mim and their friends head to the Singing Seas to visit Callie, a giant octopus. After learning that Callie's Mega Music Maker is broken, Kate and the gang work to fix the island-sized instrument so they can re-record Callie's wonderful tune.
"Boom Chicka Bees"
Kate can't get the timing right to jump rope. In Mimiloo, Gobble has a case of the sneezy snorts and needs Boom Chicka Bee honey tea to feel better. In order to get the honey, Kate must lead a concert for the Boom Chicka Queen.
"Gobble's Gift"
Kate and her parents are staging a talent show, but Mom is hesitant to perform. In Mimiloo, everyone is preparing for a dance party! While gathering crystals to make a disco ball, the gang gets trapped. Only Gobble's beautiful voice can save them – but he's too nervous to sing in public! Kate must show him there's nothing to fear.
Inspired by a real life little girl, "Kate & Mim-Mim" follows the fantastical adventures of 5-year-old Kate, who, together with her toy rabbit Mim-Mim, travels to the fantasy world of Mimiloo where Mim-Mim comes alive as a larger-than-life playmate. In each story, Kate and Mim-Mim and their group of friends discover exciting new places and set off on adventures, all in the hope of solving a puzzling problem Kate has encountered in the real world.
Exploring themes of friendship, adventure, and problem solving, "Kate & Mim-Mim" encourages children to use their imaginations and work together, believing no problem is ever too big to solve!
* This post contains affiliate links. If you make a purchase, we may or may not receive a small commission which helps to support this site. Thank you!
Giveaway: One lucky winner is going to win the Kate & Mim-Mim: Musical Mimiloo Children's DVD. Good Luck!
Giveaway Details: This giveaway is open to residents of the US ONLY age 18 and over. Please read our Terms of Service & Disclaimer Policy before entering. This giveaway will close on March 13th, 2017 at 11:59 pm EST time. No purchase necessary to enter or win.

Disclaimer: This is a courtesy post. No product or monetary compensation was received. The Classy Chics are not responsible for prize shipment. Please read all rules & guidelines before entering the giveaway.