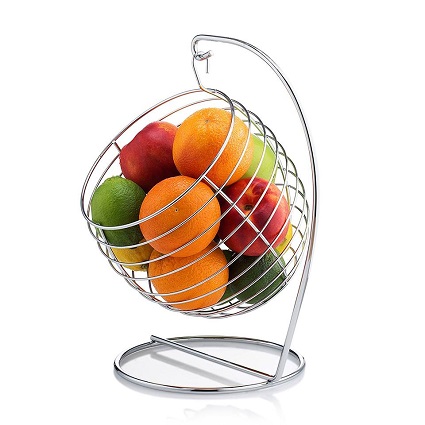 When we purchased our home 6 1/2 years ago…one of the things we didn't like about it was the small kitchen. For many years I was used to a large kitchen and really had to downsize my kitchen products, so that I could comfortably fit into the new kitchen. It's an older home and yes…kitchens were smaller back then.
Before we moved into our home we did install new kitchen cabinets, appliances, a double sink and my husband installed a beautiful new floor. Since my kitchen cabinets are new, I didn't want him drilling any holes into them to install things like paper towel holders, k-cup coffee pod holders and things like that.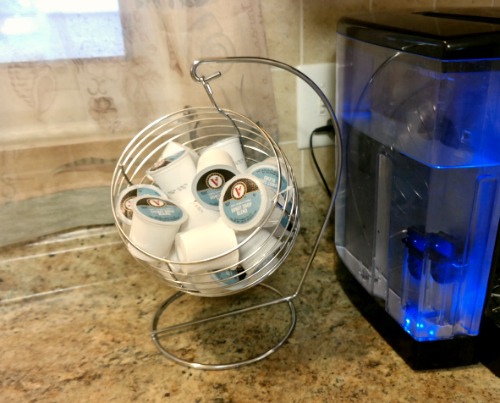 For the past 2 years I've been shopping around for something to hold all of our coffee k-cups that didn't require us to drill holes into a cabinet or wall. After 2 years, I've finally found my solution and it's not something you would normally think about using for this purpose!
I was asked to review the Francois et Mimi Swinging Fruit Tree Bowl Basket and yes…I do love it for holding fresh fruit. However, I really prefer using it to hold all of our coffee k-cups! We buy our k-cups for our coffee brewer by the case and I needed something to put them in and this is just perfect!!!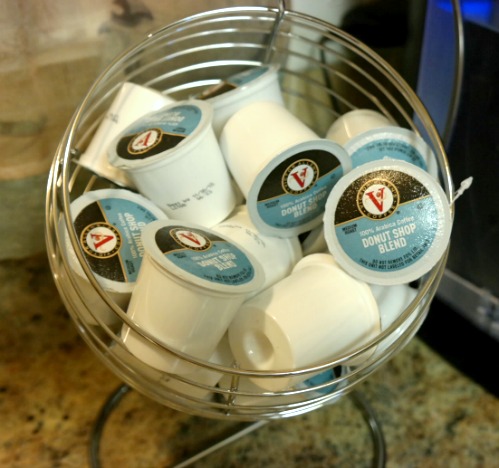 It has a very small footprint on your countertop surface and doesn't take up too much space at all. It measures 11.1 x 7.5 x 5 inches in size and has a really nice chrome finish to it. In my opinion, it will work in any kitchen's decor.
This product is very sturdy and well-balanced. I loaded it up with some heavy citrus fruits and it didn't tip over at all. I then removed the citrus fruits and loaded it up with our k-cups and got the same fabulous results! I would estimate that it will hold approximately 20 k-cups with ease! I would estimate that it will hold 10-12 pieces of fresh fruit, depending on size.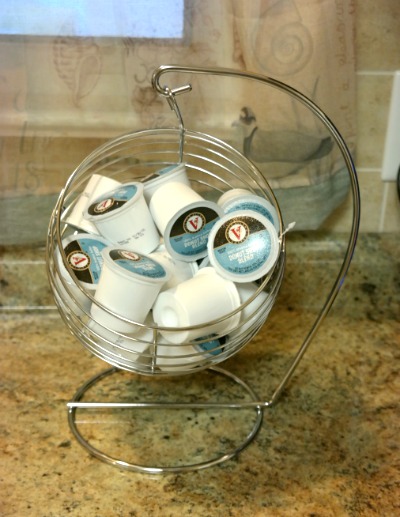 The unit actually comes to you in one box and in two pieces. You simply just hang the basket portion onto the hook on the stand portion and you're done. The opening to the basket is plenty big enough for you to easily dump your k-cups into it and easily grab them out when you need them (or fruit for that matter).
This product is the perfect solution for people like me who don't want to drill holes into new kitchen cabinets or walls to install hanging fruit baskets or coffee pod holders. In addition, its the perfect product for those of you who live in apartments or rental homes when you can't install things like this. One of the best features though is that it takes up hardly any space on my countertop thanks to the way that it's designed & constructed. I just love it!
You can purchase the Francois et Mimi Swinging Fruit Tree Bowl Basket from Amazon for a really great price! Plus, its Amazon Prime eligible too!
* This post contains affiliate links. If you make a purchase, we may or may not receive a small commission which helps to support this site. Thank you!

Disclosure: Shelly was provided the item featured here at a discount, in exchange for sharing her honest opinion about it with her readers. No monetary compensation was received. You opinions may differ. Thank you!