As winter is on its way out (let's ignore that groundhog's prediction) and spring is around the corner, it's time to think about brightening up and lightening up—your eye makeup, that is. I have been trying out some of the hottest and most on-trend make up from StarLooks (as you may remember from my post a few weeks ago), and I'm here today to change the focus a bit. This time, we're talking about eyes.
StarLooks offers a beautiful variety of professional quality, HD cosmetics and are known for their signature PerfectSize cosmetics, which are just that—the perfect size –not a full size and not a sample or trial size. These little babies are the ideal size for us ladies who may not want to commit to a shade without a few trial runs. They are about ¾ of a full size item, which is in my opinion a great way to try something out.
Let's take a closer look at some of StarLooks amazing eye makeup.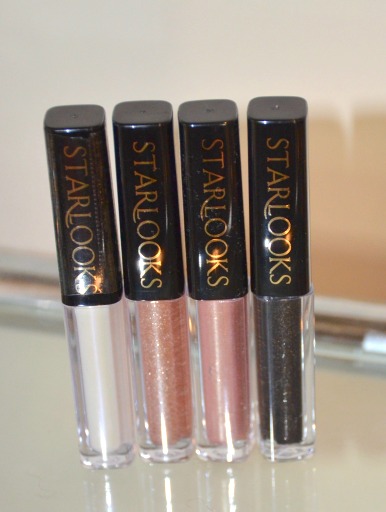 Crème Eye Shadow – I love sparkles, glitter and shimmer. I think it is so fun to turn up the volume on an evening look with some striking eye makeup. This eye shadow is one of StarLooks newest introductions and I'm definitely hooked. You can apply this shadow over a darker shade to add a shimmer or for a more subtle look, apply it over a primer. Either way, you'll end up with a gorgeous shade. The eye shadow comes in a tube and is applied with a wand (think lip gloss design) and goes on so smooth and seamlessly. It comes in four shades—Champagne, Rose Gold, Chrome and Hologram.
Eye Shadow (in South Beach) – this is a smooth, satin finish, long-lasting, powder eye shadow that provides the perfect base/beige shadow for any occasion. It can also be used as a face powder for lighter skin tones. What's really cool about this product is that product is that it contains the same volume as a "Full-Size" eye shadow, packaged in a smaller, more compact size. This is perfect for the on-to-go girl.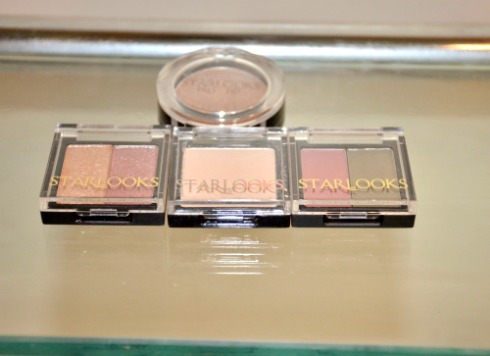 Single Shadow Compact – StarLooks offers 63 pro-quality, deeply pigmented, incredibly smooth eye shadows available in beautiful finishes. Offered in both "single compact" and "palette pan" versions, so you can create your own palette using a customizable shadow compacts. The color featured here is Sun Sand, which is a pretty neutral shade that would be a great fit for many skin tones.
Shadow Duos – these lovely little duos are available in the PerfectSize, giving you a wonderful little size for popping into your make up bag when you are on the go. The duos are available in two different shades—Fortune 500 and Agave.
Luxe Longwear Eye Pen – this is a new, dual-sided feature product that offers a shape at the opposite end of the liner for giving you an artistic edge. Available shapes are a star stamp, smiley stamp, heart stamp and lips stamp. This luxurious eyeliner provides a rich, dark and beautiful black. The felt applicator allows you to create long-lasting precise lines and goes on smoothly.
Liquid Eye Liner (in Artisan) – this may be one of the boldest and brightest products in the eye makeup line. This bright and bold blue comes in the PerfectSize and has a very fine tip brush for lining your lids to give them a punch of pizzazz.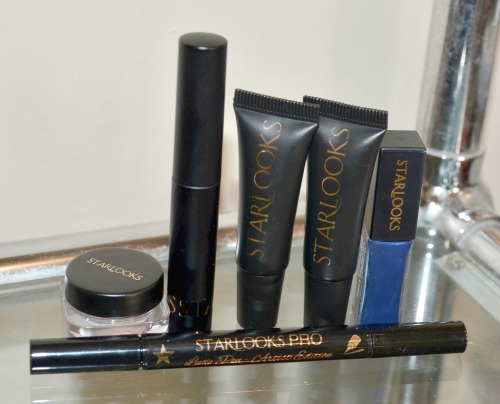 Cream Liner/Eye Base (in Concrete) – this silky smooth longwear cream formula can be applied with any liner brush to line the eyes, or can be applied all over the lid as a neutral, cream eye base. This is a very versatile product that can be paired with many other eye products, including the Luxe Longwear Eye Pen for a dramatic, evening effect.
Spectrum Mascara (in Flora) – this is the only pro quality jade-toned, long-wear mascara in the industry. Simply apply this mascara by starting at the base of the lashes and slowly working your way up to the tips and jiggle the wand back and forth slightly. This helps the formula and color wrap around each individual lash, instead of clumping. This really makes the eyes pop.
Perfecting Primer – this primer can be used on the eyelids to help make your shadow last longer, but it can also be used under your eyes to help concealer from creasing. This is a great multi-purpose product that is a must have for any make up bag.
Liquid Highlighter – a hot new product that can be used to give your face a little extra glow, this liquid illuminator will give you subtle highlights to brighten up your face. Use it around the eyes or on the cheekbones to give you a subtle strobe-like look. I say just glow with it!
Be sure to check out the StarLooks website for more information on all of these cosmetics as well as tips and tricks on the best way to wear and apply them.

Disclaimer: Kristine has personally reviewed the product listed above. She has not received any monetary compensation for her review but did receive a free product to try out so she could evaluate and use it for her review. Her thoughts & opinions in this review are unbiased & honest and your opinions may differ.