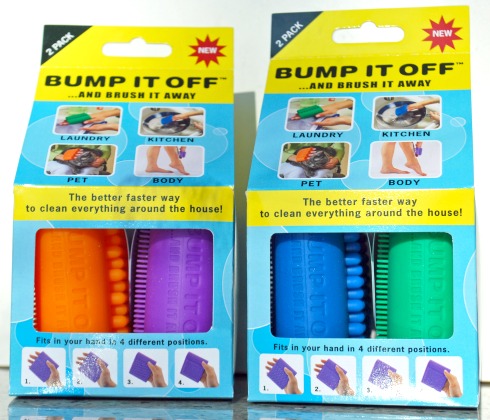 Would you believe me if I told you about a handy little silicone gadget that can be used for everything from brushing the cat to cleaning produce to removing stuck-on gunk from surfaces? Well, you can believe it, and it's called Bump It Off.
Actually, the name Bump It Off has a follow-up tag line, Brush It Away. This is because there are two sides to this clever silicone sleeve, one with smooth round bumps for scrubbing and a flip side with small soft bristles to brush away the loosened debris. It has four finger holes that are thicker on one end, which allows you to position it in your hand in different ways, depending on whether you want to concentrate the pressure with your palm or your fingertips, using either the bump side or the bristle side. Like I said, clever.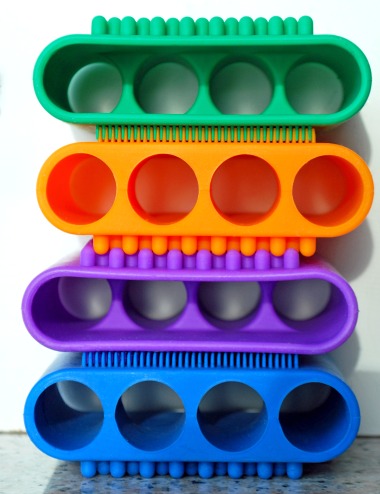 There are four main uses for Bump It Off: Laundry (stain removal), kitchen (dishwashing and cleaning produce), pets (brushing pets and removing hair from furniture), and body (in the shower, to massage and exfoliate). My experience is that it's not quite flexible enough to use for washing dishes, since it won't fit into small spaces like mugs or into the corners of pots and pans, but it's great for helping to get stuck-on food from things like sheet pans. It's a dream for cleaning delicate mushrooms with the bristle side, and it's tough enough to scrub carrots and potatoes with the bump side.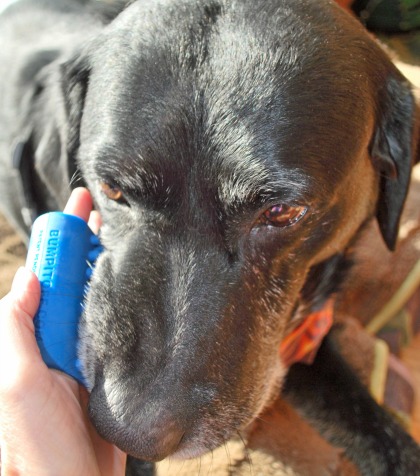 Although I like my Bump It Off, my pets LOVE it! All I have to do is slip on the Bump It Off and hold out my hand, and Crow the Cat rubs along the Bump It Off, effectively brushing himself. He loves it when I add some pressure, giving him a gentle massage while the Bump It Off removes loose fur. My dog Maverick also enjoys being brushed with the Bump It Off—he comes running when he sees his new favorite grooming tool. I'm amazed at how well it works for this purpose, and the fact that they enjoy it is a bonus.
Bump It Off comes in four colors, so I know I won't accidentally use the same one for cleaning vegetables as I do for grooming the dog. When needed, the Bump It Off simply goes into the top rack of the dishwasher.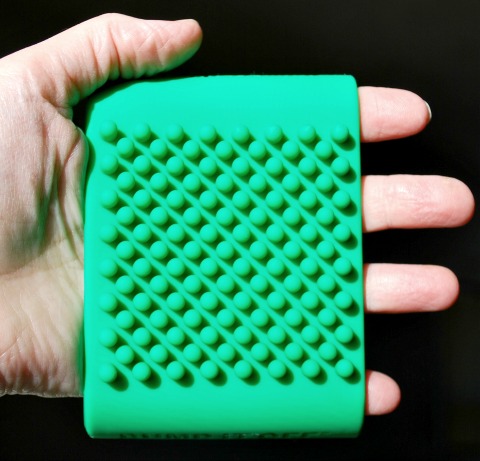 In 2016, Bump It Off received four Family Choice Awards, in the categories Beauty & Spa Products, Home & Garden Housewares, Pet Products, and Eco Friendly Products. In fact, it's the first product ever to receive four awards in the same year.
Head on over to The Goddess of Gadgets website, where you can learn more about and shop for the Bump It Off and other products.
* This post contains affiliate links. If you make a purchase, we may or may not receive a small commission which helps to support this site. Thank you!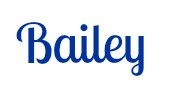 Disclaimer: A. Bailey received a complimentary product for review purposes & feature on The Classy Chics blog. No monetary compensation was received. A. Bailey's thoughts, opinions and words are 100% her own. Your thoughts may differ.