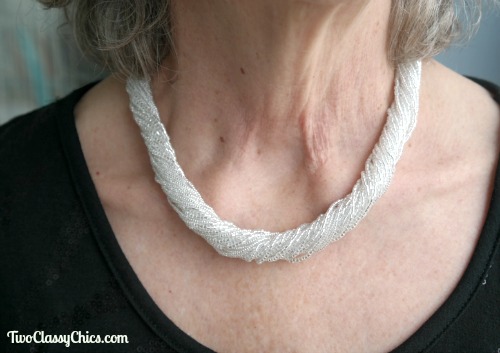 Now that we're through Christmas, I'm already thinking about all of the upcoming gifts that I'll need. During the next 90 days, I need 2 wedding gifts, 2 bridal shower gifts, several birthday gifts and then there is Valentine's Day. It seems that I'm always buying gifts, but trust me, I also treat myself from time-to-time too!
If you're looking for artisan crafted, unique and beautiful items…you're going to love shopping at Uno Alla Volta who is a luxury online and catalogue retailer. What makes this brand so special is that they curate artisans from around the globe to create handcrafted products that can only be found on their site. Many of the artisans are family-owned workshops that have perfected their craft over the generations. The brand is passionate about reaching consumers on a very personal level with products made from the hearts and hands of these very artisans. The products on the site include fashion for women and home decor.
Recently I received a complimentary Lorena's Murano Magnificence Silver Torsade 19 1/2″ long necklace. If silver isn't your thing, it's also available in gold and they offer matching earrings too!
In a small family workshop on the famed isle of Murano, Lorena works alongside her family to lampwork Murano glass and create this stunning silver-infused piece over a small flame, one at a time. These are NOT mass-produced pieces and are artisan handmade. The Silver Torsade features several strands of silver-infused seed beads and has an over-sized spring-ring clasp. I love over-sized clasps, because they're easier to get on and off.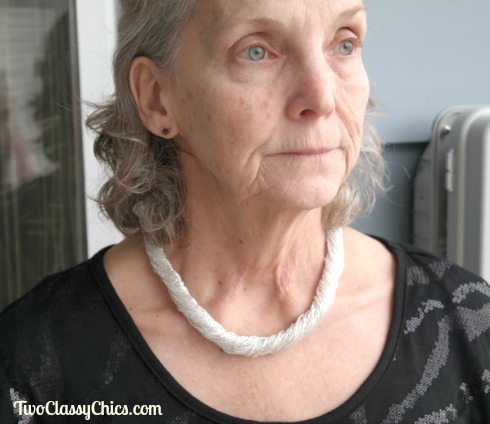 You can wear this lovely necklace several different ways. You can wear it with the clasp in the back, to the side or front & center. If you have a beautiful enhancer, you can clip that onto the necklace too! This is a luxurious piece that can be worn to the business office, out on a special date, to special parties or to a wedding. I recently worn it out on a date with my husband on New Year's Eve and my grandmother (shown in the photos) borrowed it from me to wear to a special holiday party at her church.
The necklace came beautifully packaged in a nice gift box and ribbon bow. In addition, a Certificate of Authenticity came along with it which gives you more information about the artisan and her artwork/handcraft. I love when companies include this type of information with your purchases, plus it makes gift-giving extra-special.
Head on over to Uno Alla Volta and take a look around. I know you're going to love what you see! You can connect with the company on Facebook too.

Disclaimer: Jenelle. received a complimentary product to feature & review on this blog. No monetary compensation was received. Jenelle's thoughts, opinions and words about the product are 100% her own, unbiased opinion. We are not responsible for injury or mis-use of any products won from the The Classy Chics Blog. Please read our Terms of Service & Disclaimer Policy. Thanks!