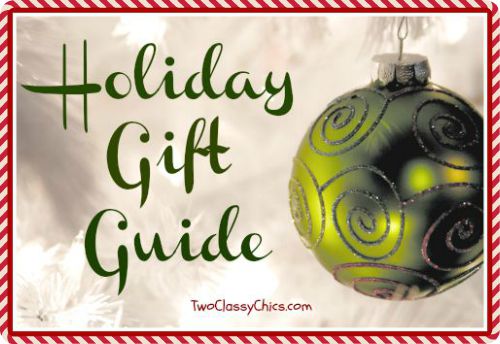 Welcome to our 2017 Holiday Gift Guide here on The Classy Chics blog! Our gift guide will run from October 2nd through December 20th, 2017. This will give you plenty of time to plan out your gift-giving and gift-buying lists, to budget your purchases and trust me, we'll be introducing you all to some very cool things!
We will be continually updating this gift guide page as we go along and properly linking things from this page to the posts here on the blog. This way you'll be able to refer to this list and find things easily.
Holiday Gifts with Giveaways:
Mouse & Mole at Christmas Time DVD
Bathroom Scale from EatSmart Products
Window Jammers – Travel Toys for Kids
Make a Face Children's Book
Pumpkin Spice Baking Mixes from Krusteaz
Baby Teethers from MAM Baby
Happy Holidays, Garfield Children's DVD
Women's Leather Clogs from Superior Clogs
Insulated Cooler Bag from The Wagon Store
L.A. Mexicano Cookbook
Backpacks & Lunch Boxes from Kidaroo
Wonder Body Adult Coloring Book
Bath & Body Products + Books from Kentucky Soaps and Such
Large Ice Bag with Holder from Sunny Bay Products
Reusable Silicone Coffee Cup by GoSili
Written by Hand Book by Erica Tighe
Gourmet Baked Goods by Bakerly
Life+Gear 3-Pack of Flashlights Set
How to Draw Every Day Source Book
Stock the Crock Recipe Cookbook
The Edgy Veg Gourmet Cookbook
Moisturizing Lotion for Men from Baldwin
Eat Like A Rock Star Cookbook
HOOT! Outdoor Backyard Ball & Scoop Game
Personalized 2018 Calendar by Stuck On You
Insulated Cooler Bag #2 from The Wagon Store
Illuminated Wall Art from Dianoche Designs
Life+Gear Stormproof Flashlights & Portable Lights
Tetley Immunity Super Green Tea
Children's Shoes from Pediped
Kid's Backpack and Lunch Box Set by Kidaroo
Holiday Body Washes from Softsoap
Cooking with Booze Cookbook
Rose Cinderella in Fairy Tale Land DVD
John Deere Toy Mega Wheel Tractor
Stormproof Flashlight & Lanterns by Life+Gear
Gluten-Free Comfort Foods Cookbook
Mind Stretchers Puzzle Book by Reader's Digest
Throw Pillows from Dianoche Designs
Love Welcome Serve Cookbook for Foodies
Gourmet Popcorn from Popcornopolis
$30 E-Gift Card to Shop at Little Adventures
Beautiful Bundts Recipe Cookbook
Sunday Suppers Cookbook
Dinosaur Kid's Chair from HearthSong
Holiday Party Tray from Hormel
Taste of Home Most Requested Recipes Cookbook
Life+Gear Flashlight Glow Stick Combo
Organic Cotton Camisole and Panty Set
Sneaky, Snacky Squirrel Game & Book Set
Throw Pillows #2 from Dianoche Designs
Digital Baby Weight Scale by EatSmart
The Saturday Evening Post Prints & Coloring Book
Bliss Christmas Adult Coloring Book
Taste of Home 365 Days of Cookies Cookbook
Dorcy Pro-Series Flashlight
Home Again DVD Movie
Disney Princess Felt Craft Kit
Holiday Gifts for Babies from MAM
Fix-It & Forget-It Cookbook
7-Pack of Flavored Sparkling Water from Waterloo
Life+Gear LED Emergency Flares
Holiday Gift Ideas – Reviews:
Beach Theme'd Jewelry from Dune Jewelry
Space-Saving Wagons – The Wagon Store
American Girls 7″ Android Tablet by Nabi
Learn to Draw Star Wars – The Force Awakens Book
Jewelry Gifts from Uno Alla Volta
Homemade Chocolate Candy Making Kit
TreeMote – Remote Control for Holiday Lights
Roller Coaster Building Game for Kids
The Glass Castle – Movie DVD
1-2-3 Building Kit for Kids by Learning Resources
Shining Stars Projector by Learning Resources
Learning Monkey by Edushape
Holiday Dresses from eShakti
Wild Zoo Train Children's Book
Discovery Kids View Master
Discovery Toys RC Tarantula
6 Stocking Stuffer Ideas for Babies
Once Upon A Book Club
Discovery Kids Shark Factivity Kit
Walkie Talkies by Discovery Kids
Sally Hansen Nail Lacquer Gift Sets
RC Alligator Toy from Animal Planet
Super Melty Craft Kit for Kids from Yoobi
Interactive T-Rex Dinosaur from Animal Planet
Sally Hansen Nail Lacquer Gift Sets
Snuggly Rascals Kid's Headphones

Holiday Craft Projects:
Craft Project: DIY Easy Snowman Candy Jar
Craft Project: Painted Snowmen on Clam Shells
Craft Project: Beach Theme'd Holiday Ball Ornaments
Peppermint Candy Holiday Ornaments
Craft Project: Snowman Oyster Shell Ornaments
Kid's Crafts: Painted Snowman on Clam Shell & Seashells
DIY Snowman Wooden Blocks – Craft Project
Snowman Snowball Pom-Pom Ornaments
Kid's Crafts – Holiday Design Painted Seashells
Seashells and Starfish Coastal Christmas Trees
Christmas Eve Family Traditions – from Shelly's Family
Holiday Recipes:
Pumpkin Spice S'mores Cookies Recipe
Easy Chocolate Marble Fudge Recipe
Pumpkin Stuffed Cannelloni Recipe
Baked Butternut Squash Casserole Recipe
Fruity Cocktail Recipes for the Holidays
Peach and Passionfruit Cocktail Recipes
Honey Peanut Butter Granola Bars Recipe
Slow Cooker Cinnamon Applesauce Recipe
Baked Mini Meatloaves Recipe
Mom's Drop Sugar Cookies Recipe
Smoked Salmon Deviled Eggs Recipe
Mom's Classic Pumpkin Pie Recipe
Chocolate Marshmallow Fudge Recipe
Lemon Herb Turkey Recipe
Creamy Cauliflower Potato Soup Recipe
Shrimp & Crab Seafood Layered Dip Recipe
Green Bean & Pasta Casserole Recipe
Honey Mustard Deviled Eggs Recipe
Delicious Baked Maple Pears Recipe
Classic Wine Guide for the Holidays – Cheat Sheet
Mom's Pumpkin Bread Recipe
Bacon Ale Cheese Dip Recipe
12 Holiday Cocktail Drink Recipes
Pumpkin Roll with Cream Cheese Filling Recipe
Lemon Loaf Recipe
Create the Perfect Cheese and Holiday Appetizer Trays
Old-Fashioned Sugar Cookies Recipe
Pumpkin Oatmeal Muffins Recipe
Chocolate Marshmallow Fudge Recipe
Mom's Chewy Chocolate Chip Cookies Recipe
Hershey's S'mores Cookies Recipe
* This post contains affiliate links. If you make a purchase, we may or may not receive a small commission which helps to support this site. Thank you!
Merry Christmas and Happy Holidays to you all!
Sam, Shelly, Jenelle and the TCC Writing Staff