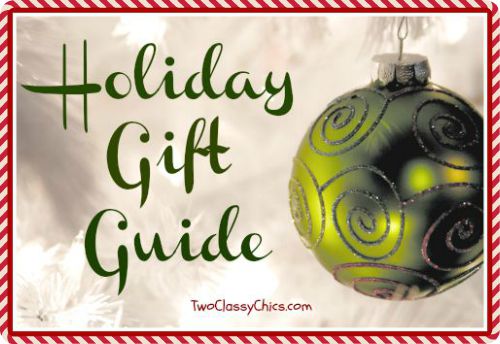 Welcome to our 2017 Holiday Gift Guide here on The Classy Chics blog! Our gift guide will run from October 2nd through December 20th, 2017. This will give you plenty of time to plan out your gift-giving and gift-buying lists, to budget your purchases and trust me, we'll be introducing you all to some very cool things!
We will be continually updating this gift guide page as we go along and properly linking things from this page to the posts here on the blog. This way you'll be able to refer to this list and find things easily.
Holiday Gifts with Giveaways:
Mouse & Mole at Christmas Time DVD
Bathroom Scale from EatSmart Products
Window Jammers – Travel Toys for Kids
Make a Face Children's Book
Pumpkin Spice Baking Mixes from Krusteaz
Baby Teethers from MAM Baby
Happy Holidays, Garfield Children's DVD
Women's Leather Clogs from Superior Clogs
Insulated Cooler Bag from The Wagon Store
L.A. Mexicano Cookbook
Backpacks & Lunch Boxes from Kidaroo
Wonder Body Adult Coloring Book
Bath & Body Products + Books from Kentucky Soaps and Such
Large Ice Pack – Bag from Sunny Bay Products
Reusable Silicone Coffee Cup by GoSili
Written by Hand Book by Erica Tighe
Gourmet Baked Goods by Bakerly
Stock the Crock Recipe Cookbook
The Edgy Veg Gourmet Cookbook
Holiday Gift Ideas – Reviews:
Beach Theme'd Jewelry from Dune Jewelry
Space-Saving Wagons – The Wagon Store
American Girls 7″ Android Tablet by Nabi
Learn to Draw Star Wars – The Force Awakens Book
Holiday Craft Projects:
Craft Project: DIY Snowman Candy Jar
Holiday Recipes:
Pumpkin Spice S'mores Cookies Recipe
Easy Chocolate Marble Fudge Recipe
Pumpkin Stuffed Cannelloni Recipe
Baked Butternut Squash Casserole Recipe
Fruity Cocktail Recipes for the Holidays
Peach and Passionfruit Cocktail Recipes
Easy Chocolate Marshmallow Fudge Recipe
Quick & Easy Carrot Cake Recipe
Merry Christmas and Happy Holidays to you all!
Sam, Shelly, Jenelle and the TCC Writing Staff