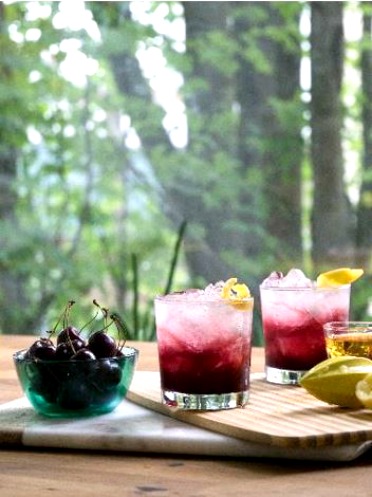 The holiday season is quickly approaching and many of us will be hosting and/or attending various holiday parties. When it comes to serving cocktails at any party, I'm all about serving ones with a fruity flavor, one's that are easy-to-prepare and whip up quickly. I feel it's important to offer a variety of beverages at any party, so that you can accommodate the many different tastes of your guests. Some may want a soda pop, some guests may want a mocktail and others will jump all over the cocktails. When planning out your party menu's, make sure you plan on serving a variety of delicious beverages.
Today's guest post recipe is courtesy of Sparkling ICE. You can find mocktail and cocktail recipes on the company's website.
Sparkling Cherry Bourbon Cocktail Recipe
4 cherries, pits removed
1 1/2 ounces bourbon
1 tsp. simple syrup
1/2 oz. fresh lemon juice
Sparkling Ice Essence of Peach
Muddle 4 cherries at the bottom of a cocktail shaker. Add bourbon, simple syrup, and fresh lemon juice- shake. Strain cocktail into a rocks glass and add sparkling water. Garnish with a lemon twist and serve immediately. Enjoy!
* This post contains affiliate links. If you make a purchase, we may or may not receive a small commission which helps to support this site. Thank you!
Disclosure: You must be 21 years of age or older to consume alcohol. Please drink responsibly and always use a designated driver.